KITCHEN GARDEN UPDATE FEBRUARY 2008
Frustrating February, my gardening mother always says. Her reasoning? Well, after battling through the mid-winter months and being within touching distance of the light evenings, warmer temperatures and all the other joys of spring, you've still got another four weeks to go!
To take our mind off the fact that March hasn't quite arrived yet, and that there's a real possibility of more snow and ice to come, we've been keeping busy in the Kitchen Garden. In this update, I'll tell you how a tree fruit pruning expert popped in to give Sharon a lesson; give you the state of play in the greenhouse; I've got the latest on some early planting and how Sharon's even started off some runner beans to try and emulate my pod-laden Chelsea Flower Show bean obelisk display of last year.
Sharon's also spent this lull period – before the frenzied March storm of sowing and planting – wandering round with her pencil and pad, plotting future structural developments and changes to the garden-scape. Read on for details of how's she's planning to move a large long tom pot (full of soil and fig tree) and where she thinks she can squeeze in some more raised beds.
And just think; once you've read through that little lot a couple of times it will be almost March, and if you've a few minutes spare it's always worthwhile browsing our very popular Garden Forum, where you'll discover a whole archive of gardening news, information and snippets. Also, don't forget to check out our Ask the Expert feature as there might be an answer to a problem that's been baffling you for a while. But if there isn't, don't despair – send in your question and we'll try to find a solution.
For now, let's try and finish off February… Training Session!
The winter months are ideal for planting out new fruit trees and bushes (just as long as the soil isn't frozen or waterlogged) and Sharon's been taking advantage of the dry mild weather we've been experiencing in Norfolk to do just that! She's increased our fruit stocks by planting out new blackberry and loganberry bushes, which she'll train up the back fence by way of the existing gripple clip and wire combination. "I've also planted 2 new bushes either side of the arch at one of the entrances to the garden and hopefully in a few months we'll be able to pick fruit as we enter," she says, licking her lips.
But it's not just soft fruit that's been getting the attention. Sharon had a visit from top tree fruit pruning expert Graham Proctor of the renowned Crown Nurseries, situated in Ufford on the outskirts of Ipswich. Graham spent an afternoon guiding Sharon through the perils of pruning and recommended a few changes to the garden's fruit tree collection. "I explained how trees work and the effect that pruning at different times of year has," explained Graham. "We also discussed rootstocks, raspberries and the garden in general - I was impressed with the lovely layout and nice atmosphere." Graham is certainly a man who knows what he's talking about; he's the Nursery Manager at Crown Nurseries and he looks after the Heritage Nursery, home to 75 varieties of East Anglian apples and 200 overall!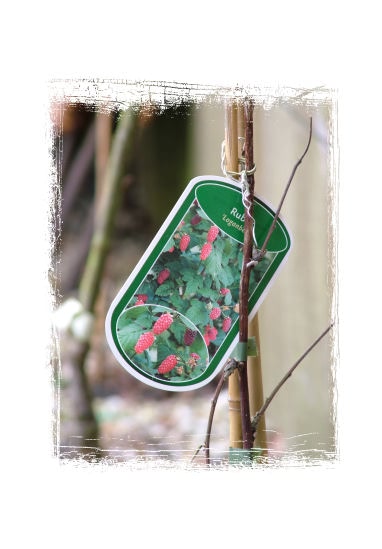 Figs for the Future!
You've probably noticed from the images included in these updates that where the paths traversing the garden cross, there are some rather interesting features – namely three huge long tom pots positioned on stone circles. In these very large – but very attractive – pots sit peach, nectarine and fig trees respectively, and following Graham's pruning workshop, Sharon's got plans for the latter. She explains; "I'm moving the fig, pot and all, to a warm sunny spot in the garden and hopefully that will lead to better yields. Graham's given me plenty of pruning pointers – apparently figs are pruned twice a year – so I'll be shaping our tree mid-spring before pinching out the shoot tips in summer."
Expect big figs later this year…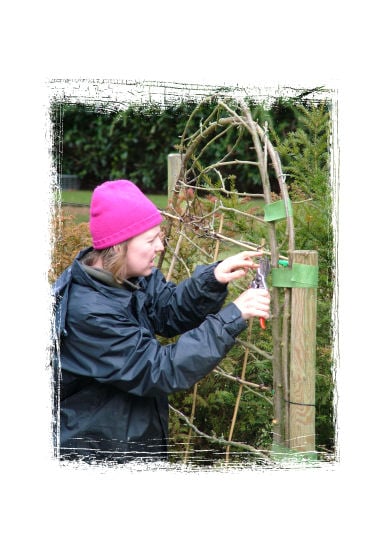 Green-house Party!
Walking into the Kitchen Garden greenhouse, you'd be forgiven for thinking it's midsummer! There's a plethora of tomato, cucumber, courgette and runner bean seedlings all growing strongly, along with some healthy looking herbs but Sharon's not too happy with the basil. "Temperamental!" she growls. It's a well and good growing these summer plants in February, but where exactly are they going to end up? Sharon's got the answers!
"The tomato seedlings are due for potting on shortly," she reports. "I'll be removing them from the plug tray they germinated in and placing them into larger pots in the combi-pack system. Next stop after that is a mini-raised bed, complete with cover for those cold late spring nights. Some of the tomatoes I'll save for the greenhouse border and they'll be joined by a cucumber and courgette plant. The remaining cucurbits will end up outside, protected by hoops and polythene and there'll be no transplanting shock – I'm growing them in coir pots," she says.
What about the Runner beans? "I've got the job of trying to recreate last year's willow obelisk we took to Chelsea," sighs Sharon. "The frame was festooned with beans, foliage and flowers and to emulate the display, I need to start early!"
The winter salads have certainly benefited from a shot of 'borage tea'; brewed to Sharon's own recipe in the Compost Tea Maker. Apparently, she's got plans for a delightfully sounding chicken manure-based feed next – I'll certainly be keeping my mug under lock and key in the potting shed!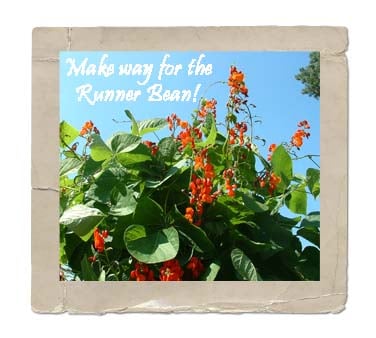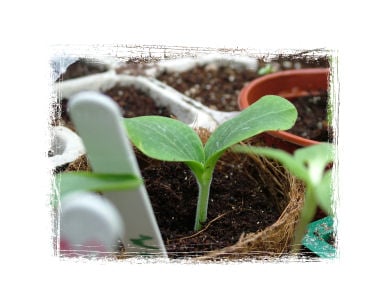 Raspberry Confusion!
There's some head scratching going on the Kitchen Garden fruit cage this month. Although the horse manure (January's update) went down without any problems – quickly followed by well-rotted straw and strulch - and the blackcurrants were pruned on schedule, it's the raspberries which are causing confusion. Sharon's carefully removed the top 10 or 15cm of growth from the summer fruiting canes but following Graham's recent visit, it appears that this is not completely correct! It's not likely to result in any long term damage but Sharon's made a note to leave the secateurs alone next year and see if there's any discernible difference. The wooden raspberry support frames got a big thumbs-up from Graham, leaving Dave (tender of the formal gardens which surround the Kitchen Garden) and I with big smiles on our faces, in our joint capacity of designers and erectors!
Back to pruning – I'd love for you to contact me with how you prune your raspberries and we'll run through the various techniques next month; depending on the response!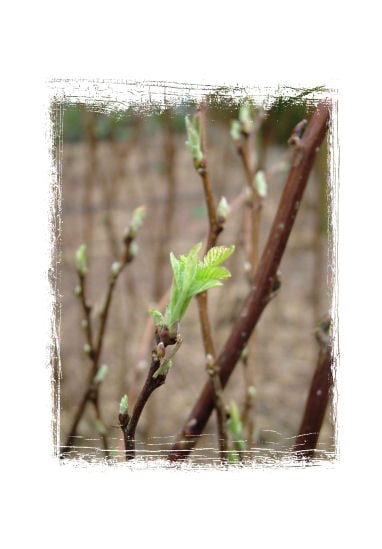 Tumbling Berries!
Crack open the double cream! Slightly premature perhaps, but the sight of Sharon busily planting up some of her new strawberry pots and planters certainly got the old taste buds trembling. And it's not your standard strawberry fare Sharon's been busy with, as she explains; "I've been planting tumbleberries, which are mini wild strawberries, into the strawberry planting bags and I'm really looking forward to seeing how my 'Rambling Cascade' variety get on. These are vigorous strawberries which can produce runners up to 5ft long, so I've planted them in small long tom pots in the hope they'll flow down the sides."
Sounds nice – but not as nice as actually eating them!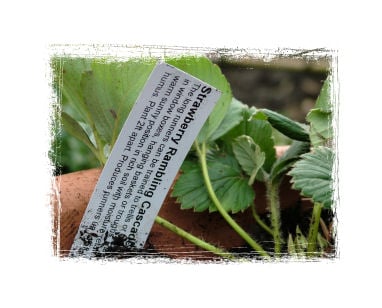 And last month…
You might remember from my last e-mail update (subscribe here if you didn't receive a copy) that we were all for heating the greenhouse, introducing a propagator and sorting out our 2008 potato crop. As you can tell from early in the update, the greenhouse is right on track and the potting shed's been taken over by hundreds of potatoes, all racing to grow the longest chits before planting.
Sharon's also been busy creating some bean trenches; developing a grandiose water butt plan; warming up the soil in the raised beds and even planting Jerusalem artichokes. If you're keen to learn more about these tasks, and dip into our reservoir of horticultural news, then you need to visit our extremely popular Harrod Horticultural weblog - accessible from the Garden Forum link on this page.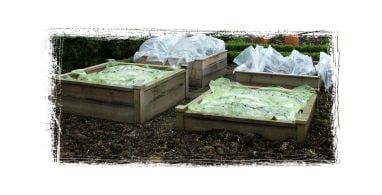 And we mustn't forget that stalwart superintendent of the formal gardens surrounding the Kitchen Garden, Head Gardener Dave. His shingle marathon now almost over, Dave's been putting his muscles to good use by dividing up his newly-shingled areas with railway sleepers. The breathless Dave managed to gasp; "Although the sleepers are very heavy, they are ideal for sectioning off areas of the garden. My back has been telling me to use the Ever-Edge material and that's what I'll do next time. Roll on spring when I can get down to some proper gardening," he continued; "I can't wait to start mowing the lawn, and it's not every year I say that!"
Martin