KITCHEN GARDEN UPDATE MARCH 2007
I always thought that it was hares that went mad in March, but this year it seems to be the weather! March is always a busy month in the Kitchen Garden anyway, but we've also had to cope with 3 seasons in 4 weeks; spring, followed by summer and then another dose of winter! It takes more than some bizarre weather to stop Kate and I keeping the garden in tip-top condition however – the 'No Vacancies' signs are up in the greenhouse, the potatoes have been planted and we've been enticing queen bees into nest boxes.
And there's more! Read on to find out what else we've been up to this month…
Time for 'Taters!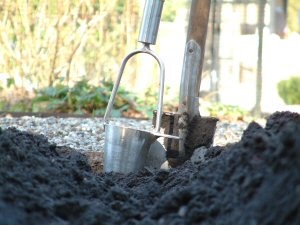 As a connoisseur of chips I really appreciate potatoes, and that's one of the reasons why I enjoy planting out the Kitchen Garden spuds every year. Of course there's a bit more to it; potatoes are one of the earliest crops you can plant out, so there's the thought that spring is here; planting and earthing up is physical work, good exercise and warms you up on a cold day and of course the soil is worked hard, leaving you with a well-cultivated bed – and hopefully a whopping harvest! But I'm a generous chap so I've let Kate in on the action this year – she's been planting up 8 Spud Tubs which she's placed around the Kitchen Garden, along with one of our new Potato Barrels, whilst I've concentrated on the beds. We've also had a chance to use the Sneeboer Potato Planter, which Head Gardener Dave had 'borrowed' to plant some of his larger bulbs! We'll keep you posted on the progress of our potatoes, and I'll put myself in charge of testing the final produce – in chip form, of course! It's a tough job but someone's got to do it!
Bee-cause We Love You!
You may think that Kate and I are the only ones working in the Kitchen Garden, but you'd be wrong! We rely on an army of insect friends and co-workers to keep pest numbers down and pollinate the plants – and hard-working bumblebees have quite a few 'stripes' on their shoulders as well as their backs! They buzz around like huge transporter planes, gathering pollen and thereby fertilizing flowers. And here's a statistic and a half for you, from Christopher O'Toole's book entitled Bumblebees – apparently, every third mouthful o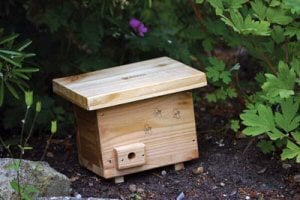 f human food depends on the unmanaged pollination services of bees. Astonishing!
With such a good reputation, it'd be foolish not to welcome one, if not all, of the 26 species of Bombus in Britain into the Kitchen Garden, so we've done just that – by providing three Bumblebee Nesting Boxes, carefully placed around the garden. The boxes have been sited in shady locations, out of direct sunlight but south-facing to avoid cold northerly winds. I've also added the finishing touches to these des-res for bees by providing straw for bedding and a drop of diluted honey as a house-warming drink- the viewings will come rolling in!

Dig/No Dig – The End!
It's probably time to wrap up our online debate on the pros and cons of digging your soil, and what has been very noticeable is the rise in popularity of the no dig method. The comments have been flooding in again this month, and no dig guru Charles Dowding has been in touch with a reply for north London allotment holder Mr Conroy-Browne. Charles, who gardens organically in Somerset, says; "I have horrible wet clay and six years ago the drainage was awful with poor crops. Successive (annual) 50mm applications of well rotted horse manure and compost, on the surface only with no digging, have encouraged sufficient worms to sort out this problem and now, in extremely wet conditions, broad beans, salad and spring onions are thriving."
From the feedback we've received (and many thanks to all of you who have contacted us), it seems that the majority of our readers are willing to try the no dig method on a small area of their plot rather than throw away the fork and spade completely, and we hope to hear of any dramatic results later in the year. If you've got any final comments on the subject, you can e-mail or post on the Garden Forum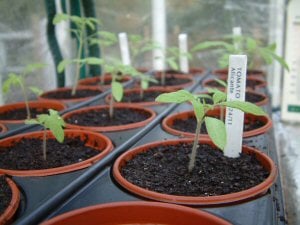 weblog, and we'll contact you for permission to use your comments in further updates.

And last month…
You might remember from my last e-mail update (subscribe here if you didn't receive a copy) that I was expecting to spend the whole month in the greenhouse, madly sowing our organic seeds. Unfortunately, I never quite made it all the way through as I filled up all the staging in the greenhouse! The 'house full' signs are up and I'm sure, like me, you get a real buzz from having so many seeds germinating and plants growing on. Kate and I will be potting up the various seedlings as required, and our first batch of companion plants – marigolds, phacelia and I'm also including basil on the list – are well underway. The Kitchen Garden planner in the potting shed reveals that our next Nematode application is due, 6 weeks after the last, and we've tided up and covered most of the strawberries – as well as keeping one eye firmly on the horticultural world and publishing articles on the weblog. Phew!
Meanwhile, Head Gardener Dave, who tends the formal gardens su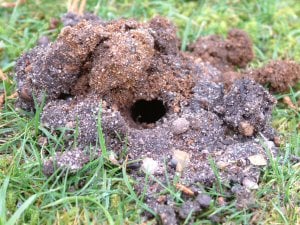 rrounding the Kitchen Garden, is still no nearer to finding out who – or what – is making holes in his lawn (see January's update). If you can help the poor chap, contact me and together we'll try to get a smile out of him!
Dave's resorted to pulling his mower out the shed, setting it on a high cut and giving the lawns a first trim – and they do look good for it. He's also been tidying up the grasses in the wild flower garden and admiring his daffodil displays!

That's all the Kitchen Garden news for now but don't forget to visit the completely revamped Harrod Horticultural weblog, accessible from the Garden Forum link on this page, and enjoy reading the articles we've published. We're posting a mix of gardening news, information and anything else that takes our fancy – daily - and it's proving a popular destination. You can even post a comment of your own, especially if you've got some good gardening tips or can relate to some of the articles we've written. We've got recipes, pest control information and lots more – the Garden Forum is certainly the place to visit!
Martin