Kitchen Garden Update - Early July 2005

As we reach the height of summer, we are extremely proud of the fact that some of the crops in the Kitchen Garden are beginning to reach maturity and we can harvest, prepare and enjoy the fruits of our labour. If you have been following the story of our remarkable garden, you will share our enjoyment and fascination at the fact this area, previously a lawn, is producing some wonderful vegetables. But we do have some unwanted visitors, as we will explain…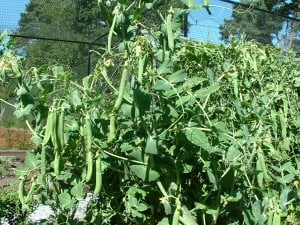 The legume bed has proved extremely popular and originally provided some very tasty broad beans, followed by the peas, which climbed vigorously over the Pea and Bean Hoops and netting. These were well watered once in flower, which we hope increased the yield, and have been harvested when required for a number of weeks. Unfortunately, this crop has been prematurely curtailed, due in the main to the intervention of the pea aphid and also the pea moth, the larvae of which has been discovered in some pods. However, this caterpillar was only present in some of the latest pods to be harvested, so a slightly earlier sowing date next year, combined with the provision of 10mm mesh butterfly netting should prevent a repeat performance next year. We have also noticed the black bean aphid on the runner beans but thankfully in very small numbers, which we are able to control with our Organic Just Bug Killer, which uses a combination of naturally occurring fatty substances to suffocate these pests on contact.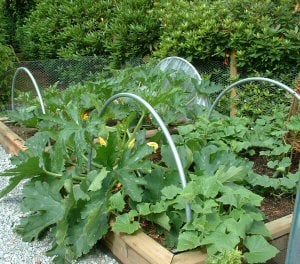 The two timber raised beds are home to our curcubits, the courgettes and cucumbers. We have been harvesting courgettes for around a month now and have been very conscientiously removing immature fruits, which has resulted in a production line of fine looking specimens. We have also noticed some black bean aphids on the courgettes but not in any great numbers, and as yet these pests have not caused any problems, and are again easily controlled with the bug killer spray.
The broccoli, producing an abundance of purple heads, which are regularly harvested and replaced by new shoots, is progressing well. Fellow brassicas, brussel sprouts and cauliflowers, have however experienced some problems with the cauliflowers in particular not looking so good, and the presence of the mealy cabbage aphid has been spotted on the brussel sprouts. The cauliflowers appear to have suffered at the 'hands' of the slugs but we will be conducting a through investigation into this, the only real failure of our first season.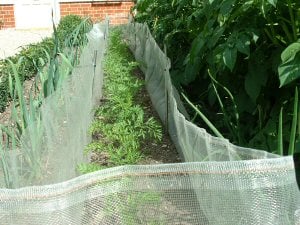 No such problem at present with the carrots, planted twixt the onions and leeks to confuse the carrot root fly and also protected by an enviromesh barrier to prevent the low flying females from reaching the plants and laying eggs.
So, this concludes our brief culinary tour around the garden as it stands at present. Hopefully we will be able to overcome the common pests currently interested in our crops and would welcome any tips or effective organic treatments you may be aware of. Please continue to travel through the gardening year with us and don't forget – the contact address for any feedback is hort@harrod.uk.com