STEPHANIE'S KITCHEN GARDEN UPDATE – AUGUST/SEPTEMBER 2010
Late summer in Stephanie's Kitchen Garden should be a relaxing period in the gardening calendar, with holidays to be enjoyed, a conveyor belt supply of fresh summer fruits and only the gentle sounds of automatic irrigation systems kicking into life to disturb the peace and tranquility.

But as you've probably come to realise, my kitchen garden doesn't exactly mirror the typical vegetable plot, allotment or fruit growing area; how many 'normal' kitchen gardens would have played host to a film crew or staged a Press Day over the past couple of months – and that's alongside the regular weeding, watering, harvesting and numerous other garden tasks which you need to keep on top of at this time of year – not to mention planning for the winter and making the most out of all those sun-ripened fruits in the kitchen.

If you want to know exactly how I've managed it, what I'm hoping to grow to accompany my Christmas dinner and which tasty kitchen creations I've used my garden produce for, you're in the right place...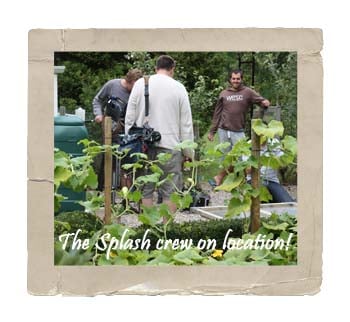 Lights, Camera – Action!
You might recall the visit of Splash Broadcast to Stephanie's Kitchen Garden last August and the footage of the garden and Harrod Horticultural products they shot back then has been helping our customers understand and assemble the more technical items we supply ever since, thanks to the video clips located on the product pages of this site.

So successful have the set of original clips proved that I was more than happy to welcome back ex-GMTV cameraman Mark Hampshire and the Splash team back to the garden to film a 'sequel' to the original and the results of their cinematic handiwork will be available online very shortly; and if you're thinking about purchasing greenhouse staging, any one of our A-Frame or Ladder Vegetable Planters or could even do with the lowdown on the attributes of the various types of netting we supply for example, then you're in luck!

The clips were presented by Radio 2 gardening guru Terry Walton this year, and I'm sure his dulcet Welsh tones – coupled with the fact he signed up for his first allotment at the age of 10 – should get across just how easy some of these products are to assemble, with a few growing tips thrown in for good measure too.

I'm already looking forward to filming the trilogy next summer!

Pressing Engagement!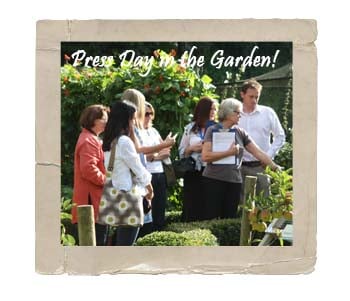 Stephanie's Kitchen Garden has been the subject of various articles and features in the gardening press over recent years and inviting a single gardening journalist to the garden takes plenty of planning, preparation and general tidying up – so imagine the effort involved when eight representatives of the country's leading gardening publications and highbrow daily newspapers are due to drop in!

Courtney and I were trimming, pruning, harvesting, sowing and generally tidying up like never before in the days leading up to the 2010 Harrod Horticultural Press Day and thankfully, the weather played ball and backed up all our efforts. All the visiting journalists – the majority of them editors of their respective publications – thoroughly enjoyed lunch on the lawn (prepared almost exclusively from produce from my kitchen garden), a guided tour of Stephanie's Kitchen Garden and a sneak preview at some of the brand new gardening products we're hoping to test and introduce to our 2011 range.

No doubt you'll hear all about their opinions on the innovative gardening items we've been working on and we'd be incredibly foolhardy if we didn't take their feedback into account – so early next year, you may be looking at a product which has been designed with input from Helen Yemm (Daily Telegraph), Tamsin Westhorpe, Jackie Bennett (both English Garden), Lucy Halsall, Teresa Tudge (both Grow Your Own), Liz Dobbs, Sui Lee (both More From Your Garden) and Ian Hodgson (RHS The Garden).

Quite a line-up!
Mean Beans!
Another kitchen garden crop furrowing my brow this summer has been the runner and French beans. There's no question that the Runner Bean Support Frame, festooned with red flowers and lush green foliage is the focal point of my kitchen garden – except we're not enjoying a kitchen garden bean feast this summer by any means! The all-important beans have failed to turn up at the party and my harvests have been sporadic at best – but what's the reason?

I'm convinced that the desert-like conditions earlier on in the summer, combined with the worrying lack of bees I've reported in previous updates, has led to a really poor period of pod setting and it's only really now that temperatures have cooled off and we've 'enjoyed' some summer holiday rain that the abundance of red flowers have developed into tiny beans. Stephanie's Kitchen Garden trainee horticulturist Courtney has been regular attaching a sprinkler to the hose and giving the beans a good drink but I'm sure a soaker hose installed for the summer and delivering water to the soil and roots would have boosted the bean crop even more, and I'll certainly be introducing this very effective watering solution in 2011.

Like the beans, if you're thirsty for more information on why pods fail to set, you could do a lot worse than visit our Ask the Expert section. Maybe the advice of our horticulturist will help your runners romp away next summer!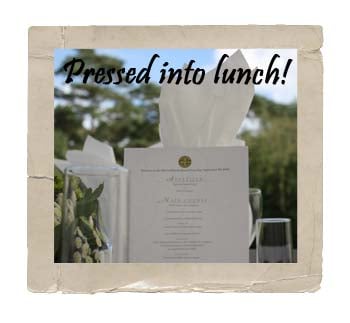 Kitchen Garden Christmas!
How many shopping days till Christmas? I know I can't avoid the Christmas rush completely but hopefully, there are a couple of things I can strike off my food shopping list already. I'm talking carrots and potatoes, and if the seed sowing/tuber planting that garden trainee Courtney has completed over the last week comes to fruition, I'll be enjoying the unmistakeable home grown taste of fresh vegetables sometime around December 25th!

I've asked Courtney to plant up three Potato Planting Bags and a further three Carrot Patio Planters (no mistaking what crop the latter is for – just check out the colour!) which will be positioned in the kitchen garden greenhouse and with the protection afforded by the glass, I'm confident that Christmas Day morning will see me lifting potatoes and pulling carrots. Like any good gardener, I've carefully recorded the sowing and planting dates so I can adjust my timings accordingly next year if I'm slightly out.

I'll make sure I keep you updated on the progress of my Christmas crops and also let you know the size of the produce I'm harvesting – and if you've successfully raised these or any other crops (sprouts are an obvious favourite) I'd love to hear from you. Contact me at webteam@harrod.uk.com with your yuletide garden tales and we'll compare notes!


Kitchen Garden to Kitchen Table!
There's no denying that I'm at my happiest when I'm digging, planting sowing or harvesting – even weeding - in my kitchen garden but preparing the fruit and vegetables I've grown in my kitchen comes a very close second. Other grow-your-owners will know that the taste of home grown produce - in raw, cooked or preserved form – is eminently superior to supermarket vegetables and it's this fact that gets me excited when I'm making chutneys and sauces.

I know that when I serve up a dish garnished with a tangy, tasty, home grown and homemade sauce or place a selection of cheeses, bread and Stephanie's Kitchen Garden-based chutney in front of friends and relatives, their taste buds are in for a treat – and I'm happy to confess that I've had a big hand in introducing the stunning Kilner Jars, jam, preserves and chutney making kit and – my personal favourite – the Rigamonti Passa Pomodori Passata Machine to our range – and an even bigger hand in 'testing' them out! In the same way the apple presses deal with gluts of fruit and windfalls, the passata tomato press will turn excess fruit into a delicious, smooth, rich tomato sauce, removing the skin and seed in the process.

Making my renowned sauces is all well and good, but they'll be 'legendary' for entirely the wrong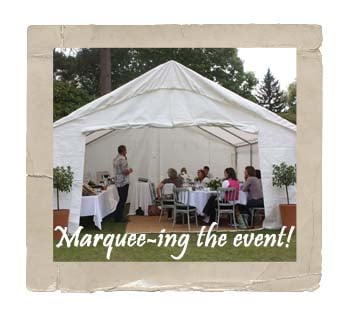 reasons if I don't store them properly. That's why I'm such a big fan of the best jars money can buy – the Kilner Jars! These handsome jars are certainly tried and tested – they've been around for over 150 years – and the screw-top lids of the preserve jars feature a rubber seal to keep my chutney, pickles and preserves as fresh as the day I bottled them. The clip top jars are the real deal and you can keep yourself in chutney throughout the winter months with the 3 litre version and storing rice, pasta (back on that sauce again!) and lentils couldn't be easier.

Yes, the weather is starting to close in and my gardening time is slowly being curtailed but when I've got my kitchen activities to fall back on, it somewhat softens the blow!
Apart from flexing his muscles and helping with the preparation for the Press Day, Head Gardener Dave, the careful curator of the formal gardens surrounding Stephanie's Kitchen Garden, has been forced by the turn in the weather to dust off his lawnmower and edging shears once again. The two month lawn mowing summer sabbatical finally came to an end, as Dave explains; "I've feared for the lawn this summer but like many other gardeners around the country, I'm astonished at the sheer resilience of grass and its ability to bounce back with a steady supply of rain. I've been trimming the lawn edges to give everything that neat and tidy appearance and although I'm going to have to undertake some autumn renovation work on parts of the lawn, it really doesn't look too bad."

Before Dave takes up his scarifier, lawn rake, aerator and grass seed, he's got lavender to cut back, roses to deadhead and a Russian vine to bring under control – all tasks designed to keep the shape of the garden and hopefully prolong the summer colour still in evidence. Dave's a big bulb fan and has also scattered a healthy amount of daffodil and tulip bulbs around the garden – I'm not exactly sure where, but I'm sure I'll find out come spring!

As you can see from above, I'm busy in the kitchen at present so I'm leaving trainee horticulturist Courtney to the almost daily task of harvesting squash, potatoes, carrots, courgettes and runner beans. She'll be stopping the squash plants in their tracks and leaving the current fruits to swell before harvest very shortly and with tomato production slowly grinding to a halt in the greenhouse, it will soon be time to kick out all the unwanted summer guests! She's got top pest expert Julian Ives on hand to identify anything she's not sure about – as have you of course – and together with our video clips and Ask the Expert section, we've got practically all the gardening information you'll need!