STEPHANIE'S KITCHEN GARDEN UPDATE – OCTOBER 2010
After the hectic horticultural-based activity in and around Stephanie's Kitchen Garden over the last few months, October has come as bit of a breather and I've actually enjoyed pottering around the garden, snipping off a few tasty treats for my kitchen and kicking up the falling leaves – and I'm back on monthly schedule with my updates!

The gentle slowing of pace in my kitchen garden is mirrored all over the country with the summer crops looking fatigued and the garden generally, in estate agents speak, looking tired. But don't go thinking that the winter sees my garden shut up shop for a few months – there's none of that talk around here!

I've been giving my greenhouse a thorough scrub down; sweet peas and broad bean seeds are already in module trays; garlic cloves are being planted and I've had a good old fashioned clear up! I'm still harvesting a few of the summer crops and putting them to good use in the kitchen – read on and I'll tell you more about October in Stephanie's Kitchen Garden...
Ice Surprise!
October and ice lollies don't usually appear together in word association exercises but following another excellent edition of Hugh Fearnley-Whittingstall's River Cottage Every Day, the unlikely combination have teamed up to provide a real treat. Home-made ice lollies give you the opportunity to greatly improve the fruit and flavour content of your ices – mass produced frozen treats are reckoned to contain around 10% fruit – and following Hugh's simple recipes sees this figure boosted to a whopping 90%!

Not only can Stephanie's Kitchen Garden produce the raspberries required for tangy, tasty and tongue tingling home-made and frozen lollies but we've even got the exact same moulds used to create the distinctive lolly shapes. Yes, it might be October, thoughts are turning to hats and scarves, log fires and turning back the clocks but it's not too late to knock up a few healthy treats for the kids or grandchildren and with the help of our lolly moulds and this simple recipe, you can do just that!

Raspberry Ice Lollies
1kg of fresh raspberries
100g of castor sugar
Add both to a blender, liquidise, pour into lolly moulds and place in the freezer – it's that easy! We've even got the lolly sticks too!
The Greenhouse is a Clean-House!
The hub of my Kitchen Garden is the greenhouse and with another successful – and relatively pest-free – growing season under my belt, and the fact I can't squeeze even one more cherry-sized fruit from the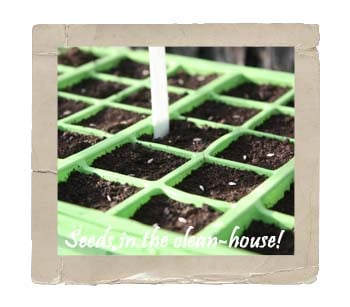 exhausted tomato plants, I decided to treat it to a thorough power wash and clean down – the greenhouse equivalent of a spa break perhaps?

Removing the algae, dirt and grime from the white frame of the structure greatly enhances the exterior appearance but it's on the inside where I'll literally see the real benefits. Clean glass will allow the seedlings inside to soak up every shaft of weak winter sunlight; any insect pests deciding to hide up and overwinter in the framework will have to re-think their winter schedule and larger versions – slugs and snails in particular – won't be using the staging, seed trays or any other hardware as an exclusive winter retreat!

I decided to let my trainee horticulturist Courtney sample the delights of using a pressure washer in an enclosed space and although it's fair to say she ended up on the wet side of damp, she's done a cracking job of giving the greenhouse a real clean up. Not content with blasting every greenhouse nook and cranny with a jet of high pressured water, Courtney has completed the job by wiping down the staging framework, trays and slats with the Concentrated Greenhouse Cleaner, providing me with growing surfaces I could eat my dinner off.

And with winter seed sowing already underway – sweet peas, winter lettuce and broad beans are already admiring the new pin cleanliness of the greenhouse - followed by the gardening rush hour of late winter and spring to come, I'm convinced this autumn wash down will keep my house in order!
Garlic is Grate!
Although very unlikely to reach a size to cause any concern to vampires or other supposed Halloween visitors, I've high hopes for my garlic crop this winter. Armed with a supply of varieties of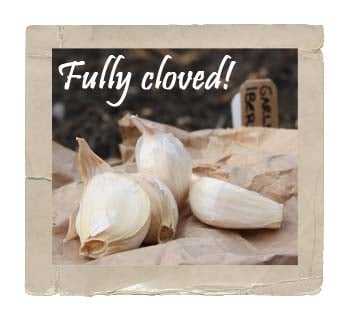 all shapes and sizes, I've decided to create an allium-based display in my six-bed raised bed layout.

Although it's recommended that garlic cloves are overwintered in module trays, I'm gambling on the fact these beds are in full sunlight and the soil is still warm following a few months of summer weather and taking a punt on direct planting – and given that garlic benefits greatly from a 1 to 2 month cold period, I think the odds on raising a decent crop are stacked in my favour.

I've always regarded garlic as key part of my garden plans as I use it extensively in the kitchen – more of which later – and I love the fact it's so easy to grow. Planting is simple too, as the cloves are separated from the bulb and pushed base-first into the soil.

Apart from viruses – and buying certified stock just like I have goes a long way to nipping that problem in the bud – there's very little that can go wrong with the crop and I'm already looking forward to taking up my garlic press come spring!
Summer Stragglers!
"After the boys of summer have gone..." sang Don Henley in his 1984 UK top ten hit and just like the ex-Eagles front-man, I'm pining for the summer. I'm looking back at the squashes, cucumbers and melons which have all but hit the wall in terms of production. These glorious hot season plants with their bright flowers, huge leaves and deep green foliage are looking a pale shadow of their summer selves at this time of year and I've only got a few fruits left to harvest – and they're only still in production as I 'stopped' the plants early this month.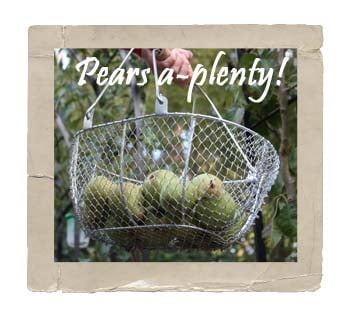 'Stopping' is an end of season operation which simply involves cutting off the plant past the last fruit once it becomes clear that any further fruitlets which form will unfortunately have no chance of maturing into a decent sized squash before autumn rolls around. This action channels all the plant's energy into the remaining fruit and the result is (hopefully) another hefty squash for the larder. Most cucurbits will respond in this manner and you can further prepare any fruit for storage by leaving it on the plant for as long as possible, perched on a raft of straw should conditions underfoot become damp.

I've also made squeezing the pears a daily ritual on my visits to the garden as they're about to reach picking stage. I've got to harvest these whilst they are still firm and not fully ripened as I intend to store them – hence my regular squeeze test - and I'm hoping that some of the late season varieties which form my kitchen garden pear arches will keep in a cool, dark environment up until spring, giving me plenty of opportunity to read up on some delicious pear recipes in the meantime!
Kitchen Garden to Kitchen Table!
Mention of pears, squashes and all things edible from the garden leads me nicely into what will be a regular feature in my Stephanie's Kitchen Garden monthly updates. It's no secret that my passion for gardening is run very close by the enjoyment I get from preparing and eating the produce my garden delivers and I've decided to keep you right up to date with what's going on inside the AGA as well as the potting shed!

You might also recall that another of my pleasure in life is breakfast cereal with fresh berries from the kitchen garden, but with the cool autumnal weather really taking a hold it's time for me to enjoy my berries in another form – and that means raspberry jam! With the jam making bundle lending slightly more than a helping handle and a selection of screw-top Kilner jars looking like a jam ID parade in my kitchen, I've been turning my glut of autumn fruiting raspberries into jars of delicious jam which I can't wait to spread on hearty, thick home-made toasted bread on a cold winter's morning. Topped off with the gingham jar covers and neatly labelled up with jam jar labels, my jam looks too good to eat - almost!

The squashes I've been regularly picking get a look in too – they're delicious when roasted with red onions and garlic – and another winter warmer makes an appearance in the form of sloe gin, perfectly presented in the Padova flasks and hopefully ready just in time for Christmas.

One man with his beady eye on my happily fermenting sloe gin is Head Gardener Dave, the partial-to-a-tipple tender of the formal gardens surrounding Stephanie's Kitchen Garden. His hopes that the gin will form part of his Christmas box have been put on hold as a final application of Nemaslug nematodes takes precedence – and this final, completely organic slug-bashing treatment of the season should greatly assist in a relatively slug-free start to the new growing year, as Dave explains. "Hitting the slugs at this late stage of the year should take out larger slugs before they get a chance to deposit their eggs, and also any recently hatched small slugs. The fewer slugs which overwinter the better as far as my hostas and rudbeckias – not to mention the kitchen garden vegetables - are concerned," he says.

Dave's also been working out by carrying boxes of carrots from the garden down to the house where they are stored in sand in a frost-proof, well ventilated outbuilding. This technique involves placing the carrots in layers separated by slightly damp sand and protects them from the almost inevitable slug damage when left in the ground until required. Bear in mind that as with any root vegetable going into storage, any damaged specimens should be removed and the carrot tops should be cut off as near the crown as possible. Suitable storage boxes? I've discovered that fruit boxes make a very attractive and practical winter 'clamp' for my carrots and I can pop out and grab what I need for dinner without the need for a winter's evening trip up to the garden. Perfect!

Finally, with those clocks about to rewind by one hour very shortly you'll find your gardening time is greatly curtailed. But don't waste any of those winter hours; just spark up the home PC or flip open the laptop and spend the dark evenings with us! We've got video clips of our products, a regularly updated Garden Blog and plenty of expert gardening advice on hand from our resident horticulturist Martin Fiddes, pest control guru Julian Ives and a host of celebrity gardeners and chefs as well.

With all the gardening information we've got at your fingertips, you can hit the ground running next spring!