KITCHEN GARDEN UPDATE AUGUST 2009


Where does the time go? Already it's August and the scales have tipped; we have now passed the midpoint of this year's summer; the foxglove flowers are long gone and bulbous tall green spires rise up from the backs of borders. These natives are a most welcome gift in the Kitchen Garden, good for attracting bees and also a tonic for those plants growing around them. Nature's freebies in many a woodland garden, they pop up one year to be transplanted to a more amenable position, where next year they can grow and spread and send up their many spires. August means these now fade to brown ready to be pulled up by the many diligent gardeners who value this woodland invader, they are inverted and shoved into brown paper to safely release their booty ready to be sprinkled round and about.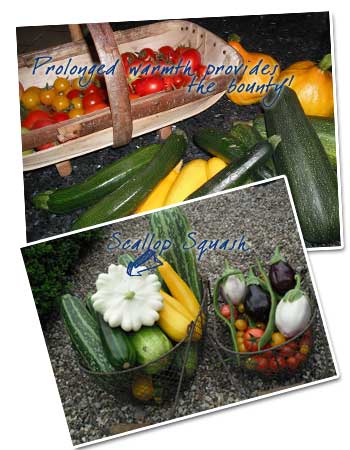 For many of our native species it is time to seed, to fruit, to become loose and diffuse. Our hedgerows are dull again as only the Campion and a few others soldier on. The arrival of some long anticipated warmth and sun will finally finish many off, this is all good though as prolonged warmth and sun is just what the Squashes, Aubergines, Peppers and Tomatoes need to give their best yields. How exciting to peer through the undergrowth and spot a Scallop Squash you had previously missed, or chance upon a vibrant red orange Kuri, as it is easy to lose them in the mountain of foliage that is the Kitchen Garden Squash patch this year. The Soaker Hoses worked a treat as did using Willow Borders to build temporary mini beds within larger beds as this raised-up the soil to give a deep well-worked growing area, with the soaker hoses around the edges being lower than the rest, testing the roots to look for their water and therefore grow deep. Remember too that mildew on the leaves can be caused by lack of water as well as overwatering.

The phrases 'going over' and 'bolted' are not very helpful when your garden is constantly in demand. I like the late summer look of unconfined, free roaming plants like frothy Yarrow (grown to add to the compost heaps as it acts as an accelerator)that has outgrown its placing and spills onto paths; similarly Comfrey is slashed time and time again to be used in a Compost Tea Maker. Cut the Comfrey down and shove as much as you can in the bag and leave to stew. Although the plant is decimated it still comes back with a renewed vigour, flowering for all its worth as the days shorten. The camera though does not like the aforementioned, it does not take into appreciation the time of year, freezing as it does the specific into a single moment to be viewed and judged in isolation.


It is with this in mind that a garden "make over" must take place; there is filming to be done (for some useful video clips to assist our customers online - so keep checking the website!) and it's all hands on deck to get the garden looking splendid and fresh again. Extra plants have to be sourced, raised beds changed to show off new ranges and then planted with a certain camera angle, chain of shots or to show the need and function of products in the optimum way.

I had some welcome help in the shape of Orchard End Organics who provided more lush Basils and pretty herbs than I could ever hoped to have grown single handed and they are Organic and Bio Dynamic as well, all the plants supplied were in tip top condition, a great relief.

Now please do not take this the wrong way, as I love a challenge and take a great deal of pride in getting the garden to its best... but I see all the gaps, the jobs not yet done, all the ill-defined lines, the companion plants that have come adrift and I hate pulling up a plant just because one aspect of it is not right; be it size, shape or situ. It is here that plant supports come in very handy, the rambling can become the upright once more! Invaluable at this time of year in many gardens I am sure.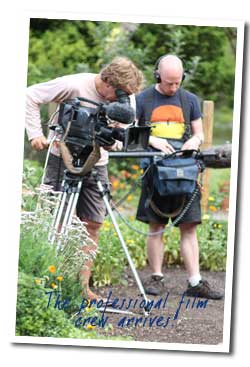 The film date arrived and the weather was kind (in fact a bit too kind as Martin and I literally roasted in the raspberry cage whilst in shot removing dead raspberry canes early for best film effect ....see if you can spot us when the shots go online!)

Thanks to the watering systems in place here in the Kitchen Garden and Dave, our Groundsman too, I can rest assured that blossom-end rot will not get the tomatoes and I can begin to relax. The cucumbers and melons can set and swell with the help of the "easy to grow irrigation kit" which is doing very well on trial this year!

I am now free for a couple of weeks to have some late summer fun, harvest my own vegetables (which includes a great glut of purple beans grown by my other half) and finally at the end of the holidays round up my unruly brood to get them ready for school/college this autumn.


Here's to long summer days and plates full of tasty seasonal vegetables.