Kitchen Garden Update Late August 2005

Recipe for Success – continued...!
We previously covered the journey from the garden to the table of some of our crops, and now we can bring you the latest on the remaining produce, and any recent developments in the Kitchen Garden…
Since our last update, we have continued to or completed harvesting various specimens from the garden. The onions (cultivar Sturon Globe) were unfortunately swamped by the aggressive growth of the potato foliage and the leaves died down earlier than we predicted. The bulbs were in good health however and we have a fine range of sizes; the smaller multi-block bulbs in particular are ideal for pickling. All the bulbs have now been lifted and are currently being dried prior to storage.
Speaking of potatoes – only the maincrops now remain in the soil and these will soon be lifted and stored in traditional paper sacks until required. Irrigating this crop with the Soaker Hose has certainly increased the tuber size and this is something we will focus strongly upon at the next planting.
The skyline of the Kitchen Garden is dominated at present by the runner beans. This crop has been an unqualified success and is regularly producing huge amounts of beans. It appears that the combination of the specially tailored Runner Bean Support Frame and constant irrigation is the key to good fruit set and development, and the installation of a Vegetable and Border Watering Kit has certainly allowed us to ensure this is provided. Next year we hope to record the yields from our various crops but as a rough guide, a large 42 litre tubtrug has been filled 3 times a week. Some black bean aphids have been located on the stems of the beans but alternating between the natural bug killer and a jet of water from the 9-Pattern Front Trigger Wand, currently on trial at the garden, has removed these pests, both methods proving equally effectively.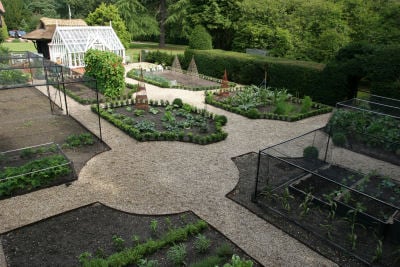 The same watering system has been introduced to the larger cucumber bed, and also extends from the runner bean frame to the adjacent pumpkin patch, which also contains cucumbers and butternut squashes. All these plants are thriving, no doubt aided by the constant drip supply of water.
The tomatoes have begun to produce an almost daily supply of fruit, although the beefsteaks, no doubt because of their size, take longer to reach the mouth watering red hue of the Gardener's Delight and Alicante (cherry and standard tomatoes respectively). Unfortunately the peppers and chillies have cropped rather erratically but it can be confirmed that the chillies (Ring of Fire) are exceptionally hot when eaten green and almost unpalatable when left to ripen to red! Plans are underfoot to plant the peppers in a bed outside next year and initially cover with polythene.
Please continue to send any recipes or culinary tips to us at hort@harrod.uk.com, and thanks to everyone who has already done so. Bon appetite once again!