Kitchen Garden Update - September 2005
The Autumn/Winter Collection 2005
We showcase the latest models destined to appear on the Kitchen Garden catwalk this winter…
As summer gradually makes way for autumn, the harvest from the Kitchen Garden produce is beginning wane. The cucumbers are exhausted, the courgettes have stopped flowering and developed powdery mildew and the runner beans are looking exceptionally green but are not producing any new pods. The entire potato crop has been lifted and stored in traditional paper sacks, the carrots are being removed from the soil when required and the onions have been dried in the greenhouse and are ready for storing.
Does this mean then that the garden is winding down in expectation of a dormant winter? Not for a minute!
We are currently in the process of removing the spent crops and preparing the beds for an influx of onions, leeks, spring cabbage, winter lettuce, spinach, garlic broad beans, radish, chard and pak choi, which should certainly keep us busy over the next few weeks and the long, cold winter months! Once we begin planting out, we will keep you abreast of the climatic conditions and the progress of these crops.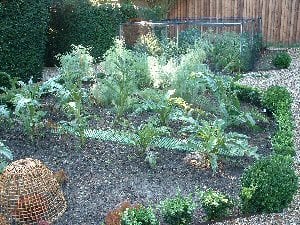 Preparing the soil for planting is no walk in the park either as, if you have been with us from day 1, you may recall that back in February/March, the beds were only tickled with a rotovator prior to planting. As the soil had not been used for fruit and vegetable production before, it really needs opening up and copious amounts of fertiliser – organic, of course – added to increase fertility and structure – and that's where Double Digging comes in. This rather labour intensive and exhausting task involves digging a trench one spade spit deep, incorporating your chosen organic matter, digging this in to another further spit deep and refilling the trench by opening another!
Elsewhere in the garden, the never ending crusade against slugs continues, with further applications of nematodes possible whilst the soil temperature remains in excess of 5 degrees centigrade. On the subject of nematodes, the optimum application time for Nemasys H, the control for vine weevil larvae, is from now until November. This will knock out the larvae which overwinter in the soil in pots and containers, nullifying the damage they cause in the spring. We are also in the window to apply the Nemasys Leatherjacket Killer, which will remove the potential for lawn damage by leatherjackets.
So, the garden is still a hive of activity with the proposed winter schedule, plus various new products on trial, which may well appear in our 2006 catalogue, provided they meet our standards of excellence. As always, we welcome any comments or suggestions you may have, so please feel free to contact us