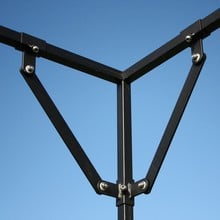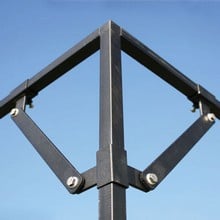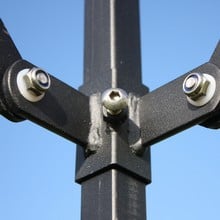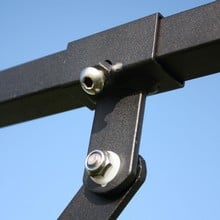 These Steel Fruit Cage Corner Braces give our already robust walk-in steel fruit and vegetable cages even more extra rigidity when exposed to high winds or softer soil.

The Corner Brace is designed to offer greater strength to the corners of the Steel Fruit Cages. The Steel Fruit Cage Braces are also available as Mid Braces for added strength to cage sides and as Single Sided Braces where a door prevents a corner brace being used.

It is possible to fit the fruit cage strengthening braces retrospectively but it will involve dismantling and removing the roof top bars to do so, so our advice is to fit the braces when initially assembling the cage.
The walk-in steel fruit cage strengthening braces are designed to be used on standard steel fruit cage designs only, not designed to fit our peaked or domed steel fruit cages.
Steel Fruit Cage Corner Braces only required in particularly exposed locations or where soil is very light
The Corner Brace is designed to give additional strength to the corners of the steel fruit cage.
Corner Brace kit consists of 2 steel struts, stainless steel fittings and clamps
We recommend that on larger cages (in any direction) at least the middle upright is braced on the sides over 6m
Easily fitted and adjusted with an allen key (not included)
Mid Braces and Single Sided Braces also available
Single sided brace can be used where a door prevents the use of a corner brace
13th August 2014
I had an existing fruit cage which had developed a considerable tilt. Before being built up the area was known as Roxeth Marsh and has proved that with the recent heavy rains it quickly reverts. The brace should help to stop further problems.
28th February 2013
The corner braces look good and certainly add stability to the cage. It would be helpful if they were mentioned in the main assambly instructions rather than being simply an add on.
Many thanks for your feedback, your comments have been passed onto our R & D dept. We always appreciate customer reviews as we continue to improve both the products we provide and the service we give.
STEEL FRUIT CAGE BRACES FREQUENTLY ASKED QUESTIONS
1. How many support braces would I need for my fruit cage?
The amount and type of support brace will vary depending on the size of the cage. Please contact our Customer Services Department or call us on 0845 218 5301 for further information.

2. Can braces be added to my cage at a later date, if required?
Yes, braces can be added to a cage that has already been erected. However, it will be a little tricky because you would need to remove the horizontal bars and connectors from the uprights in order to add these parts.
3. Can I fit the braces to internal uprights, as well as external?
The braces are designed to be fitted to the external uprights, but there is no reason why you cannot also add them to the internal uprights, to give your cage that extra stability.