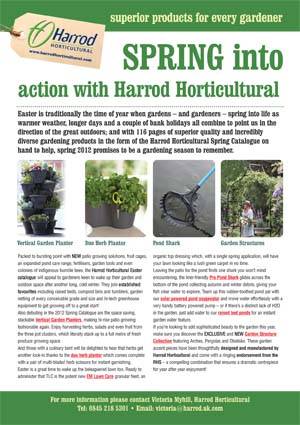 SPRING INTO ACTION!
Easter is traditionally the time of year when gardens – and gardeners – spring into life as warmer weather, longer days and a couple of bank holidays all combine to point us in the direction of the outdoors; and with 116 pages of top quality and incredibly diverse gardening products in the form of the Harrod Horticultural Spring Catalogue on hand to help, spring 2012 promises to be a gardening season to remember.

Packed to bursting point with new patio growing solutions, fruit cages, an expanded pond care range, fertilisers, garden tools and equipment and even colonies of indigenous bumble bees, the Harrod Horticultural Easter catalogue will appeal to gardeners keen to wake up their garden and outdoor space after another long, cold winter and supply more serious grow your own enthusiasts with essential vegetable plot items, many of which have been designed and manufactured in our Suffolk factory.

Also waking up is the beleaguered lawn with a dose of TLC very much on the agenda. Ready to administer that care is the potent new EM Lawn Care granular feed, an organic top dressing which, with a single spring application, will have your lawn looking like a lush green carpet in no time.

Also debuting in the 2012 Spring Catalogue are the space saving, stackable Vertical Garden Planters, making hi-rise patio growing fashionable again. Enjoy harvesting herbs, salads and even fruit from the three pot clusters, which literally stack up to a full metre of fresh produce growing space.

And those with a culinary bent will be delighted to hear that herbs get another look-in thanks to the duo herb planter which comes complete with a pair of multi-bladed herb scissors for instant garnishing.

Leaving the patio for the pond finds one shark you won't mind encountering; the liner-friendly Pro Pond Shark glides across the bottom of the pond collecting autumn and winter debris, giving your fish clear water to explore. Team up this rubber-toothed pond pal with our solar powered water fountain and move water effortlessly with a very handy battery powered pump – or if there's a distinct lack of H2O in the garden, just add water to our raised bed ponds for an instant garden water feature.

Joining established range thoroughbreds such as raised beds, compost bins and tumblers, garden netting of every conceivable grade and size and hi-tech greenhouse equipment in the Harrod Horticultural stable, these spring new kids on the block will provide you and your garden with all help and assistance you could possibly need – so happy growing!