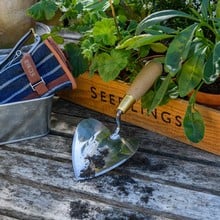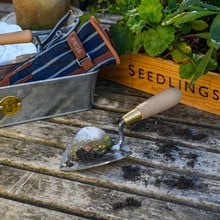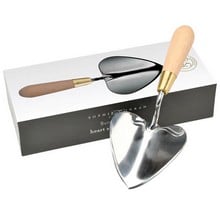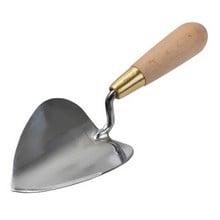 Sophie Heart Shaped Trowel (Gift Boxed)
£5.95 P&P
Size:
Overall length 24cm
This Stainless Steel heart shaped trowel by Sophie Conran at Burgon and Ball would make a wonderful gift for any gardener, supplied in a stylish presentation box.
Read More
The versatile heart-shaped trowel by Sophie Conran at Burgon and Ball has been created to be ideal for planting and extremely useful for shallower digging and scooping, when planting bulbs, bedding, or plug plants.
The wide head moves soil quickly and easily, and the pointed sharpened tip slices smoothly through ground. The ergonomic design gives the gardener more digging power, since the head is in line with handle, rather than angled. This trowel's small size makes it especially ideal for container gardening.
The mirror-polished stainless steel of the tool head glides with minimal resistance through the soil. The stainless steel is rust-resistant and will keep rust at bay to stay looking bright and beautiful for years to come. The FSC® beech wooden handle is carefully shaped to fit easily into the gripped hand and the turned ferrule in solid brass provides a secure and lasting connection between handle and body.
Presented in a stylish gift box, this unusual garden tool makes a lovely gift for any gardener – or a very practical treat for yourself!
Heart shaped hand trowel by Sophie Conran at Burgon and Ball
Mirror finish stainless steel head
FSC® beech wooden handle
Turned ferrule in solid brass
Overall length 24cm head width 10.5cm
Ten year guarantee against manufacturing defects
Ideal gift for a gardener
Supplied in stylish gift box
Be the first to write a review for this product.