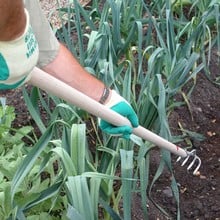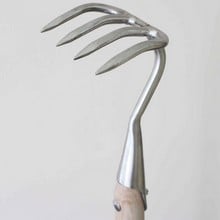 Sneeboer Narrow Long Handled Rake
£5.95 P&P
Size:
174cm Overall Length
The practical Sneeboer Narrow Long Handled Rake has a multitude of uses in the garden and the narrow rake head (10cm wide with 8cm deep tines), in tandem with the long handle (174cm overall), allows for accurate work from a distance.
Read More
The practical Sneeboer Narrow Long Handled Rake has a multitude of uses in the garden and the narrow rake head (10cm wide with 8cm deep tines), in tandem with the long handle (174cm overall), allows for accurate work from a distance.
The narrow rake is suitable for all regular garden tasks such as cultivating, raking, removing weeds and spreading mulch and fertilisers.
Hand-made in Holland and hand-forged in the finest stainless steel
Individually shaped, polished and sharpened by hand
The tines are 8cm deep
Complete with ash handle
Overall length of this sneeboer rake is 174cm
Steelwork carries a 10 year guarantee
Handle carries a 1 year guarantee
19th September 2013
A wonderful narrow headed rake which is really useful and adaptable. At last I have found a gardening tool which is better than my old rake which I have treasured for 30 years. That was my first gardening implement for my first house and it has worked very well helping me in all my gardens. It will stay in the shed for old times' sake but the Sneeboer will be the one I shall use in future. It really is a delight to use being light and strong and so neat among plants. Well done Sneeboer. I am lucky enough to have a few Sneeboer tools and they are all of good ergonomic design and well weighted for their use making any job so much easier and more rewarding.
7th April 2010
This rake is absolutely perfect for getting into very tight spaces between rows, the build quality is outstanding and will I am sure last a lifetime.
6th January 2010
I love this rake. Not too big but not too small that the job takes you twice as long either! As with all the Sneeboer ladies tools it looks great and is fabulously comfortable to hold! Being lucky enough to now own half a dozen of the ladies' range of products, I've yet to be disappointed! Thanks!
What The Press Say
---
Grow Your Own
2011-11-03
Green Gardener
Featured Product
---