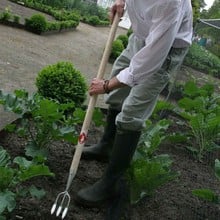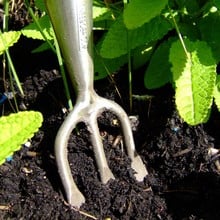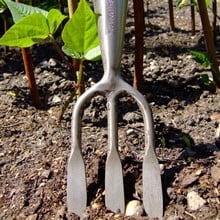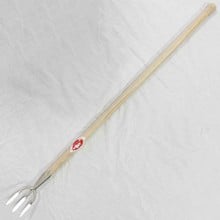 Sneeboer Long Handled Fork
£5.95 P&P
Size:
116cm Overall Length (approx.)
The Long Handled Sneeboer Fork is designed for working on your beds or borders with the minimum of effort thanks to the extended ash handle, consigning back ache and straining to the past!
Read More
The Long Handled Sneeboer Fork is designed for working on your beds or borders with the minimum of effort thanks to the extended ash handle, consigning back ache and straining to the past!

The delicate and dexterous 10cm long tines of the hand-sized fork contrast with the 95cm long ash handle which gives you both the power to dig and extended reach to avoid harming closely planted vegetables and ornamentals in beds and borders.
The tines of the Sneeboer long handled fork are manufactured by hand in Holland from stainless steel and we're confident this is one fiork which will make your gardening first team squad match after match!
Long Handled Sneeboer Fork tines measure 10cm in length
Ash handle measures 95cm in length
Overall length is approx. 116cm
Ideal for working in tightly planted borders, beds and vegetable plots
Fork head and tines easy to control
Hand forged stainless steel head
Helps eliminate back ache, bending and straining
Steelwork carries a 10 year guarantee
Wooden handle carries a 1 year guarantee
11th December 2012
Great product and great service; a customer for life! Mrs C Smith
23rd October 2010
fork designand quality is obviously good, the handle could do with being longer
What The Press Say
---
Grow Your Own
2011-11-03
Green Gardener
Featured Product
---
Daily Telegraph
8th March 2008
Helen Yemm, Ask The Expert
Sneeboer, the Dutch manufacturer, has a super long-handled, small-headed fork for rootling around in the border in their range of stainless steel, wooden-handled tools.
---