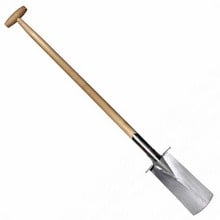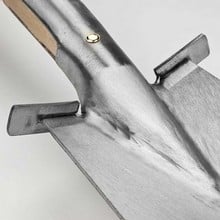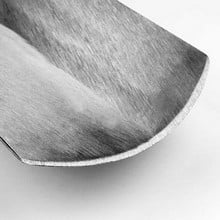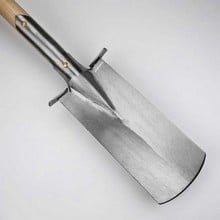 Ideal for digging, dividing and generally working in a confined space, the Sneeboer Long Narrow Spade has been designed to use in densely planted borders or in the vegetable patch.
The business end of the Sneeboer Long Narrow Spade comprises of an 11.5cm wide, hand-forged in traditional Sneeboer fashion stainless steel blade which measures 28.5cm in length and features two 4.5cm wide footplates for extra comfort and protection.

The Sneeboer Long Narrow Spade measures 116cm overall from the tip of the stainless steel blade to the very top of the ash 'T' handle, and will provide you with years of top notch gardening assistance.
Sneeboer Long Narrow Spade measures 116cm overall
Narrow blade is 11.5cm wide and 28.5cm deep
Blade is fitted with 2 x 4.5cm wide footplates for safety and comfort
Ideal for working in tightly packed borders and vegetable gardens
Perfect for general digging along with dividing and other cultivating
Carefully weighted and balanced spade
Fitted with ash handle
Stainless steel blade hand-forged in Holland
Steelwork carries a 10 year guarantee
Wooden handle carries a 1 year guarantee
11th August 2015
Having requested this spade for my Birthday, my husband was somewhat sceptical that such a tool warranted such a price! Nevertheless he purchased it together with a long handled fork and has waited patiently for my response, which I now post to you. To commend 'Sneerboer's description would only start to tell you just how good it is. The spade literally glides through soil with the sharpness and precision of a knife. The long handle and footplates limit the amount of bending required to do the job. It is relatively lightweight given it's strength. The curved blade enables digging out of long rooted plants with limited damage in a small space, so it is fantastic for moving plants around, indeed I have favoured it above a fork because of the depth of the blade. Needless to say, ordinary digging where there are no plants is fast, precise and kind to the spine. The only downside I have experienced - and it is a minor one, is that the footplates get in the way when one is moving soil from a wheelbarrow to the ground. Perhaps I should hold on to my old spade for this purpose alone at no extra cost!
11th October 2011
This spade is brilliant, I have just taken on a new allotment which is full of Docks with very long roots and this spade makes it easier to get right down the root system.
27th June 2011
I have a vegetable garden with raised beds and was looking for a lightweight narrow spade. This spade is very well made. strong but not too heavy, I can dig deep into the soil without bending and without then lifting a great weight of soil. The top of the blade is wide and comfortable for pushing down on in wellies. The Handle is long with a simple T bar at the top. I bought the spade for me but notice that my husband keeps using it too! Highly recomended.
What The Press Say
---
Gardebs Illustrated
October 2020
Spades
Make light work of digging this autumn with an efficient long-handled spade. This Sneeboer long handled narrow spade is good for tight spaces and is available from Harrod Horticultural.
---
Grow Your Own
2011-11-03
Green Gardener
Featured Product
---