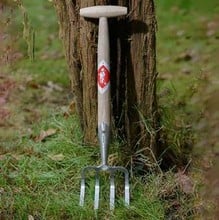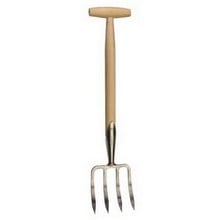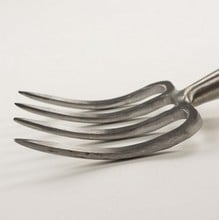 Sneeboer Ground Elder Fork
£5.95 P&P
Size:
51cm Overall Length
The Sneeboer Ground Elder Fork is a versatile garden fork with gently curved tines ideal for digging up ground elder but this little fork is also extremely useful for a vast array of garden tasks where care and attention are paramount.
Read More
The Sneeboer Ground Elder Fork is a versatile garden fork with gently curved tines ideal for digging up ground elder but this little fork is also extremely useful for a vast array of garden tasks where care and attention are paramount.
There's no escaping the fact the design is particularly suited to removing the deep roots of ground elder but the gently curved, 13cm long tines are of use almost anywhere in the garden; and with the short handle, you'll be right on top of your job!
Stainless steel curved tines are 13cm in length
3cm gap between tine
Ash wood handle
Fork measures 51cm overall
Fork head measures 11.5cm wide
All four tines are gently curved and ideal for removing deep rooted ground elder
Short handle means you can keep a close eye on the job in hand
Steelwork carries a 10 year guarantee
Wooden handle carries a 1 year guarantee
9th June 2013
As a professional gardener working in an area inundated with ground elder I have found the fork invaluable. As with all Sneeboer tools I have purchased it exceeds all expectations, once you get used to the curved prongs...that and the fact that it looks like a fork designed for very small people which is not evident in the catalogue picture.
30th April 2013
A very cleverly designed short-handled weeding fork excellent for clearing all types of perennial weeds (not just ground elder but including nettles and some grasses) from around delicate plants. Though you need to be kneeling to use this product the product shape allows the chore of weeding to be carried out with minimal effort
What The Press Say
---
Grow It!
December 2012
Tools for the Task: Spade & Forks
"The gently curved tines and short handle of this tool makes it ideal for removing perennial weed roots from soil."
---
Grow Your Own
2011-11-03
Green Gardener
Featured Product
---