Garden Product of the Year 2013
The RHS Chelsea Flower Show announced Thursday the 21th of March that the Sneeboer entry, the "Royal Dutch Hoe" with 3 innovations for the RHS Chelsea Flower Show Garden Product of the Year 2013 was been successful.
The award was launched by the RHS in 2011 to celebrate the best new garden product introductions available at the Show and is judged by a panel of experts, who are looking for innovative, sustainable and quality garden-related products. The panel of judges consists of:
· Dougal Philip – RHS Council Member.
· Andy Peck – Chairman of Tradestand assessments across 4 of the RHS Shows.
· Julie Hollobone – Editorial Projects Manager of The Garden Magazine.
· Sarah Easter – Chelsea Show Manager.
· Bob Sweet – Head of Judging at the RHS.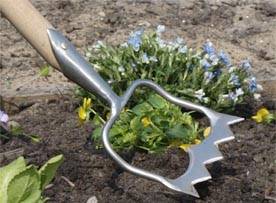 With many excellent entries, ( 50 applications) making the final decisions was tough for the judges however they believe they have selected the most innovative, quality, sustainable products that represent a fair cross section of the various garden products that are available at the 2013 Chelsea Flower Show.
There are thirteen products on the shortlist and the winner of the RHS Chelsea Flower Show Garden product of the Year 2013 will be announced on Sunday 19th of May, two days before the show opens to the public.
As you can understand we, and many others keep our fingers crossed for our good friend Jaap Sneeboer who said:

"Gold Medals are prestigious awards for show gardens, special plants, plants varieties and flower arrangements. Since three years, the RHS added another Award "the RHS Chelsea Flower Show Garden Product of the Year" , a cross selection of the most innovative, qualitative and sustainable garden products.
Every year we applied but we never passed the selection. This year we applied again, together with the English rose breather John Scarman we developed a completely new hoe and due to the "toothing" we named it the "Royal Dutch Hoe" , again to pay our respects to our Queen. "
For more information on the "Royal Dutch Hoe":
or download the Sneeboer App for the tablet.