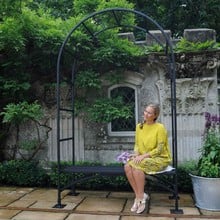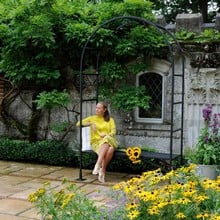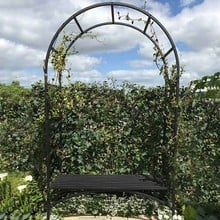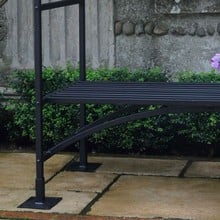 Roman Arch with Integral Bench
£14.95 P&P
Our Roman Garden Arch with integral bench combines our own manufacturing excellence with a design which is definitely 'tried and tested' resulting in a metal garden arch and garden seat incredible in both simplicity and looks.
Read More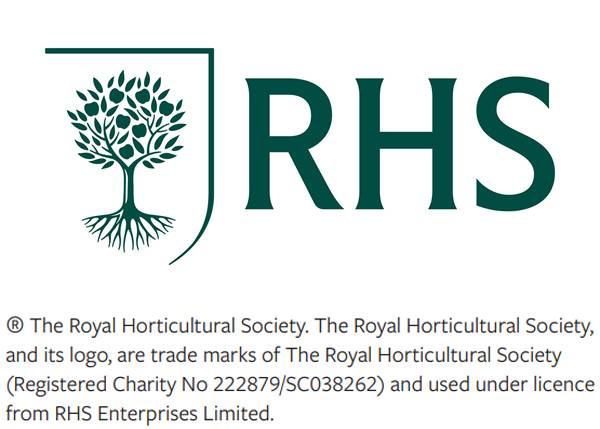 Our Roman Garden Arch with integral bench combines our own manufacturing excellence with a design which is definitely 'tried and tested' resulting in a metal garden arch and garden seat incredible in both simplicity and looks.
The semi-circular span of the Roman Arch is particularly suited for climbing ornamentals, vegetables, fruit trees and often used as rose arches. With the top quality materials used in this steel garden arch and integral bench, you can be sure it will be around for years!
As well as the pre-galvanised extra strength 1.5mm thick x 25mm square steel with a matt black powder coated finish, the RHS endorsed Roman Arch boasts flush fitting plastic-capped steel connectors and black stainless steel bolts.

Like the other stunning garden Harrod arch designs in our range the Roman metal garden arch is designed to be installed directly into the soil (we've provided an additional 40cm on each upright to secure into the ground along with optional floor fixing pins).
Please Note: The images show the arch installed on a patio as an above ground option - we can supply surface mount sockets if you are not planning to install directly into the ground - as this is a bespoke option there is an extra cost of approx. 25-30%. Please call 0333 400 1444 (8.30am to 5.30pm Mon-Fri) for details or email madetomeasure@harrod.uk.com
With that RHS endorsement and a 10 year structural guarantee behind it, you can be sure the Roman Garden Arch with integral bench will prove to be a valuable and long lasting focal point in your garden.
Also available as an optional extra is the extremely useful, no-nonsense Hole Former to create pilot holes when installing your Garden Arch and bench in stony, or rock hard soil.
Roman Garden Arch and bench endorsed by the RHS
Designed and manufactured by us in the UK
10 year framework guarantee
Measures 1.5m wide x 2.45m high x 0.6m deep
All measurements are external
Distance between horizontal cross bars on arch is 41cm centre to centre
Bench features a slatted seat top design and beautiful curved support brace legs
Unique 25mm x 1.5mm wall square section steel framework provides exceptional strength
Steel Framework is fully galvanised and matt black polyester powder coated for a weatherproof finish
Black flush fitting connectors include steel inserts for greater strength and rigidity
Heavy duty black stainless steel bolts
Roman Arch is designed to be installed directly into soil
Roman Arch uprights are an additional 40cm long for securing/digging into soil
Hole former available for easy ground installation
Ideal for roses, clematis, honeysuckle and all climbing plants including vegetables
Self Assembly required - Full assembly and installation instructions provided
Optional Hole Former available
Our range of Roses & Clematis from Peter Beales includes varieties ideal for our garden arches
EXTRA OPTIONS & MADE TO MEASURE!
We are here to help with your Garden Arch Project and can offer a complete Made to Measure Service if you can't see the ideal size or design for your garden.
Visit our Made to Measure page for more information and to complete our easy online Made to Measure Quotation Form
Above Ground Fixings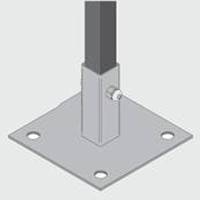 If you wish to fix your Garden Arch above ground on a concrete surface, we can supply surface mount sockets that the arch uprights can then slot into as shown in the images. This option costs approx 25%-30% extra. Please call 0333 400 1444 (8.30am to 5.30pm Mon-Fri) for details or email madetomeasure@harrod.uk.com