I must apologise for the lack of entries recently, but I've been on a whistle-stop trip to Exeter in Devon, near to the RHS's west country garden at Rosemoor.

Situated in Great Torringto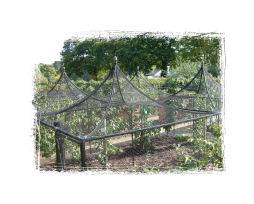 n in North Devon, Rosemoor is the most westerly of the four RHS gardens and a mere 40 odd miles from Exeter. The River Torridge - which borders one side of the garden - and the surrounding area, is famous for Henry Williamson's classic story of Tarka the Otter and the scenery in this part of Devon is truly stunning.

We've been working closely with the RHS over the past year or so, and our fruit cages have been introduced at the flagship garden in Wisley, Surrey - a great opportunity to see these high quality structures up close. We'll also have a presence at the other end of the country as Harlow Carr, another RHS garden, hold their Vegetable Sowing and Growing Day on April 11th where our raised beds will be on display.

I'll keep you posted on my next road-trip when it happens!