With the countdown clock showing only 49 days, the 2010 RHS Chelsea Flower Show is rapidly approaching – and Harrod Horticultural will be there to give our customers and other interested parties a chance to see our products, including a fruit cage, timber raised beds and Sneeboer tools, live and close up!

All roads lead to the Royal Hospital in Chelsea on Tuesday May 25th as the 88th RHS Chelsea Flower Show to be held at that prestigious venue kicks off in earnest. We've secured a prime location at 38 Pavilion Way, right alongside the huge, white, main pavilion, and we're hard at work right now creating a stand and display to be proud of.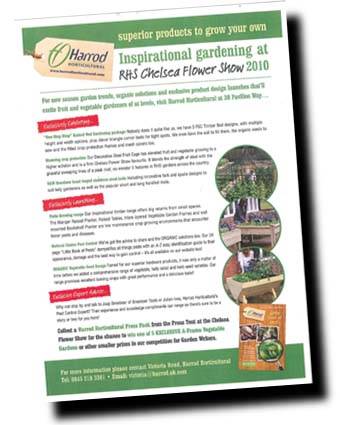 Included in our design is a Decorative Heavy Duty Steel Fruit Cage, which originally made its public debut at the RHS Chelsea Flower Show back in 2007; examples of our FSC accredited timber raised beds (allotment, standard and superior versions will all be on show) and some brand new, exclusive Sneeboer tools will also be launched at the show.

We've also got some experts on hand to give you the very best garden advice from their chosen field. No one knows more about Sneeboer tools than the man who makes them, and Jaap Sneeboer – the third generation of the Dutch family to run the business first established by his grandfather – will be on hand to discuss new additions to the range along with existing designs.

You can also quiz garden pest control expert Julian Ives on what's been munching your marigolds, chomping your cabbages and tasting your tomatoes and he'll guide you through the new Natural Choice range of organic pest control products at the same time.

Our customers tell us they enjoy being able to touch, feel and really appreciate the work which goes into many of our products and we'll have the new Manger Raised Bed Planters, Raised Bed Tables and a Ladder Vegetable Garden – amongst others - for you to admire at close quarters.

Don't delay though – tickets are already moving fast with one day already a complete sell-out! You can purchase tickets from the RHS online and don't forget – fight your way through the crowds and make 38 Pavilion Way your first port of call!