After weeks of planning, preparation and eventual construction, the stands, gardens and displays which form the RHS Chelsea Flower Show are finally complete.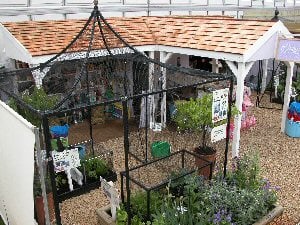 I've touched upon just how difficult it is for growers to achieve the perfection required in their live plant and floral displays, but what really hit home during my recent visit to the show site was the sheer effort and scale involved in the construction of the show gardens and stands.
The Harrod Horticultural stand, situated at 37 Pavilion Way, has a footprint measuring a mere 10m by 5.5m, but the work involved in creating the display is immense - however, it's nothing when you consider the show gardens and specialist displays which are swarming with workers and machinery.

I've included some images of the Harrod Horticultural stand under construction, along with some general shots of the show itself which I hope will convey the work involved. One aspect of this build-phase which I think reflects the scale perfectly is the fact that bins for waste materials are not provided - dustcarts are!

This is the hidden Chelsea that the vast majority of us do not see, so whilst you watch the coverage on the BBC or are lucky enough to walk around the show, please consider the blood, sweat and tears that go into making the Chelsea Flower Show what it is!