It's fair to say 2007 will not go down as a vintage year for potato crops, with blight and the unprecendented wet summer weather being the main culprits, writes our horticulturist Martin Fiddes.

Potatoes in particular have been hit hard by the prolific fungal disease, with many commercial growers badly hit - and unfortunately, according to this report, it appears that all is not well in the world of potato farming.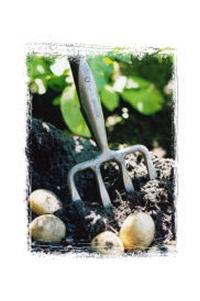 There have been fractious exchanges between organic growers and those still reliant on chemicals to fend off blight, with the latter accusing the former of almost helping the disease to spread.

The crux of the matter appears to be the widespread use - in 2007 at least - of copper sulphate, a substance classified as 'toxic' by the Soil Association, the charitable body which certifies and promotes organic food. Leading university boffins have described copper based fungicides as "not only poisonous for people, but also for wildlife" and claim that "copper compounds are 1,000 times more toxic than fungicides used on non-organic potatoes".

Amateur gardeners are well aware of the need to be vigilant in the face of this disease, and in our own Kitchen Garden we were forced to cut down haulms at the first sign of infection and lift the spuds prematurely.

And it seems that consumers need to be on their guard as well, with thousands of tonnes of potatoes branded 'organic' produced with the help of copper based sprays.

With the climate in general likely to become warmer and wetter - perfect conditions for the germination and growth of blight spores - it seems that any research institute or growers who develop blight resistant potato varieties could be onto a winner!