It's been a busy week in the kitchen garden, preparations are well under way for the season ahead.
This year we have decided to plant our vegetable's in a potager style, this should add interest to the garden and be aesthetically pleasing to the eye.
We have marked out the patterns in which we plan to plant in string, this gives a really good visual impression to how the finished beds will look and gives us a clear planting guide. However, the garden does resemble a large game of cat's cradle at the moment, but this is only temporary as soon as the vegetables are planted and the seeds sown, we can remove all the string and let the plants reveal the lovely patterns that we have designed.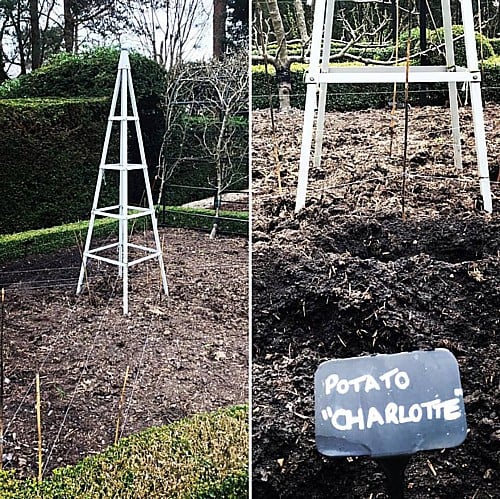 This style of planting does take a lot of planning and a lot of plants, its really important to consider what grows well together and how much space they need. When planting a potager garden, you also have to consider how the plants will look height, colour and texture all play an important role.
So, this week there has also been a lot of seed sowing in greenhouse, we want a wealth of plants so we can pick the strongest and the best to plant out but don't worry any that don't make it to the garden have a good home to go to and won't be wasted.
We have also been sowing suitable companion plants this week, such as nasturtiums, marigolds and sweet peas these will help bring useful insects into the garden and act as a deterrent to some un-wanted ones.