Don't get yourself in a pickle! Expert preserveaholic Jess from Pickles, Jam and Preserves has put together this guide to preparing and storing pickling vinegar.

It appears that our Padova Flat Flasks are ideally suited for playing a major role in keeping your carefully created concoctions as fresh as possible too!

Over to you, Jess...

Pickling Vinegar
When storing pickling vinegars it's hard to find any better vessel than the Padova Flat Flask. Vinegar is known as a highly acidic liquid and is very proficient at drawing flavours from many other type of materials. Glass is completely inert and impervious to the corrosive actions of vinegar.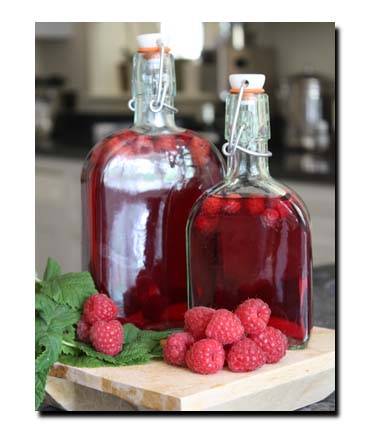 When preparing pickling vinegar it is imperative that a quality vinegar is used. Cheap vinegars are in most cases very harsh with little flavour. This harshness will mask the delicate flavours imparted by the spices you will want to add.

There are five main varieties of vinegar that can be used for pickling:

Malt Vinegar – this old fashioned favourite is excellent for pickling onions and eggs and favours being spiced with mace, coriander, black peppercorns and allspice.
Red Wine Vinegar – idea for pickled red cabbage and beetroot. It likes to be coupled with the oriental spices of ginger, cinnamon and cloves.

White Wine Vinegar – best utilized for pickling fresh vegetables for example cauliflower, French beans and gherkins. The light spices of caraway, mustard seed, rosemary and thyme suit this vinegar.

Cider Vinegar – beloved of the pickled egg and the base for all those good fruit chutneys, this vinegar will go well with the sweet spices of cinnamon, cumin, cloves and coriander.

Distilled Vinegar – very harsh and colourless, it is used diluted to pickle eggs, gherkins and silver skin onions. Most spices and herbs will fuse with this vinegar as it has little taste of its own.

To produce a good pickling vinegar:
1. Put the vinegar that you prefer into a saucepan, preferably made of stainless steel. The saucepan must also have a lid.
2. Add 1 tablespoon of sea salt to every litre of vinegars, plus any herbs and spices you want. Usually a teaspoon per litre will be enough.
3. Bring the vinegar to boil, put the lid on the saucepan and simmer for five minutes.
4. Allow to chill and store in Padova Flat Flasks until use.
5. Before use reheat the vinegar if necessary. Different recipes may need the vinegar to be hot when poured onto the pickles.

And that's generally it - simple! You can make your pickling vinegar and store it for very long periods of time in Padova Flat Flasks which also look very appealing on kitchen shelves.

The flavour will mature as it ages within the bottle. Home pickling is really easy and rewarding. There are tons of great websites with all sorts of interesting pickling recipes available so what are you waiting for, get pickling today!