If you've been following @HarrodHort on Twitter or even joined us on Facebook, you'll know from our tweets and entries that our new warehouse facility is nearing completion.

The finished structure will provide us with just over 8000 sqft (750 sqm) of storage space for our ever-expanding range of mail order gardening products and will considerably boost the quantity of stock we can hold, in turn speeding up our order despatch times - good news if you're a returning customer or you're thinking of ordering from us for the first time!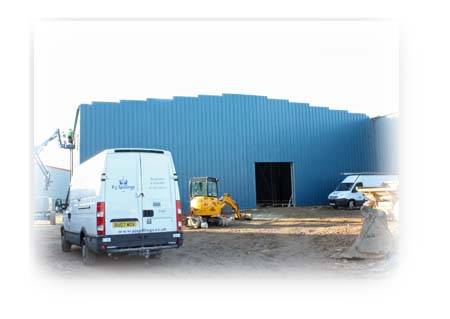 Designed by the Paul Robinson Partnership and constructed by local building contractor PJ Spillings, the warehouse is due to be handed over to us at the beginning of March and once the electricians have wired up the building, we can set about installing the forklift-friendly racking system which allows us to utilise every last inch of available space.

You might already be aware of our green credentials - we use recycled materials for packaging orders wherever possible which can then be composted - and we've certainly embraced that theme by installing solar panels on the new warehouse roof. Given a good dose of Suffolk seaside sunshine, the panels should generate up to 10kw of electricity - that's almost 7% of the total required to power our offices and existing mail order warehouse and reduces CO2 emissions by 5,266 kg per year.

And with one eye on the future, we've designed the warehouse to be easily extendable should we wish to increase our storage capacity again in the future - and with orders for bulky products such as raised beds and fruit cages growing steadily, that's an option we may well have to take up!