February 14th is intrinsically linked to love and romance, and here's a bit of a different slant on Valentine's Day – this year, show some love to your garden birds!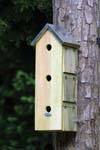 For the British Trust for Ornithology are keeping with tradition and launching their National Nest Box Week on the 14th of February, which encourages all of us to provide a home for breeding birds.

Natural breeding sites are rapidly disappearing as woodland is removed and gardens altered, and providing a nest box will help with conservation in the UK and – as every gardener knows - encouraging birds into the garden is bad news for slugs and other pests.

There's still plenty of time to make your own bird nesting box – a great project with which to involve the kids or grandchildren – but if your DIY skills aren't up to the job, there are plenty of quality bird boxes around to buy. We've got a high rise, three storey birdie block of flats – Sparrow Flats – available or alternatively, the RSPB, British Trust for Ornithology and Wildlife World have some great nest box ideas.

Once you've got constructed or purchased your box, the British Trust for Ornithology will tell you how to participate fully.