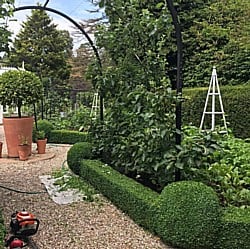 We have been busy preparing for a photoshoot this week and everything is now looking lovely with the hedges trimmed into shape and lots of weeding and tidying has been done. It is very satisfying to look round the garden and see what has been achieved with all our hard work.
There has been plenty to harvest again; broad beans, courgettes, red currents, summer raspberries, spinach, cucumber, and sprouting broccoli.
The tomatoes are starting to get some colour to them so I am sure we will be picking them very soon and the cucumbers are doing really well.
There hasn't been any rain here this week so there has been a lot of watering to do to and to keep everything growing strong and healthy I have been feeding the plants at the same time with some Maxicrop seaweed feed.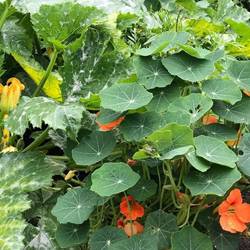 I have planted more nasturtiums to fill in some gaps in our raised beds. These colourful plants not only attract bees which is great for pollination but also butterflies, greenfly and black fly are all drawn to them.
This may not seem like a good thing but if these little pests are eating the nasturtiums, they won't be eating our vegetables!
I have also planted a couple of pumpkins this week which will add interest to the kitchen garden when the days become colder.