Hot on the heels of our announcement that pest control guru Julian Ives has joined the Harrod Horticultural team is the publication of a little book which is sure to get plenty of use in the kitchen garden, down at the allotment and in the vegetable patch this season – our Little Book of Pests.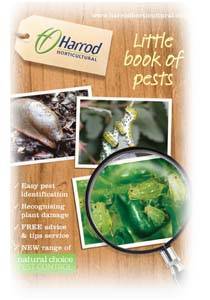 Dubbed 'the little book that's a big help', the 24-page guide features all the common garden pests you're likely to encounter, what damage they can cause to your plants and most importantly, which one of our Natural Choice pest control products will prove most effective.

The pest guide – already a favourite with many of our customers – is almost a complete A-Z of the most likely garden pests you'll encounter as it covers Aphids right through to Whitefly, throws light on the subject of biological pest control and explains which organic pest control solution is best suited to each season.

Julian's been heavily involved with the production of the invaluable 'Little Book of Pests' and the introduction of our Natural Choice range has enabled many gardeners to take early preventative action against the inevitable pest invasions.



How do you get your hands on a copy? You can go for the quick option and download a version of the Little Book of Pests (downloadable PDF version file size 2.65MB) or if you'd like us to post you a copy – and we're sure you'll find a place for it in your potting or allotment shed – just click on the image below.