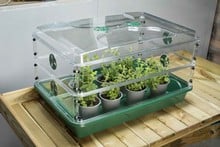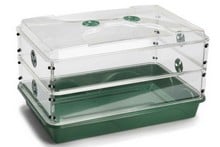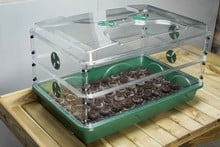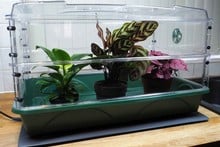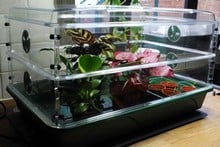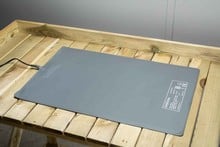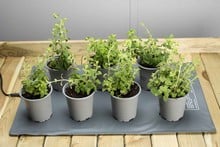 Large Propagator with Height Extender
£5.95 P&P
This Large Propagator with height extender and adjustable ventilation control for air flow and humidity provides the perfect environment for the germination and growth of seeds and protection of young seedlings.
Read More
Exclusive Designed &
Made by us in the UK
Long Guarantees
This Large Propagator with Height extender set will provide the perfect environment which optimizes conditions for germination and growth and protection of young seedlings.
The vented lid and height extension allow for control of humidity during germination and when closed can preserve moisture and heat improving results. The clear lid and sides will not reduce the effectiveness of grow lights nor degrade under UV light.
The lid and height extension can be used outdoors for direct sown seeds during the early and late season protecting the seeds and young seedlings from cold or inclement weather.
It is easy to add height extensions to permit plants to mature both indoor or outdoors in a sheltered environment. The height extenders are easy to assemble and disassemble using the thumb nut and screws provided for compact storage when not in use.
A Heated PVC mat is also available that can increase the temperature of the rooting area across the mat approx. 15°C higher than the ambient temperature. Promoting seed germination and plant growth in cold environments.
Large Propagator with Height Extenders
Shatter proof lid and sides are UV stabilised and crystal clear to allow for maximum light from either sunlight or grow lights for optimal plant growth
Adjustable ventilation control for air flow and humidity to give your plants the best environment
Sow seeds and cuttings organically with compost directly into the base or use smaller trays
Made in the UK from robust and durable injection moulded plastic
Measures 58cm x 38cm x 32cm providing space to grow lots of plants
Made to last for many years with care
Large Heated PVC Germination Mat measures 55cm x 35cm with a 1.5m cable and 240v plug
Be the first to write a review for this product.