There's no denying that I'm at my happiest when I'm digging, planting sowing or harvesting – even weeding - in the garden but preparing the fruit and vegetables I've grown in my kitchen comes a very close second.

Other grow-your-owners will know that the taste of home grown produce - in raw, cooked or preserved form – is eminently superior to supermarket vegetables and is this fact that gets me excited when I'm making chutneys and sauces.

I know that when I serve up a dish garnished with a tangy, tasty, home grown and homemade sauce or place a selection of cheeses, bread and kitchen garden-grown chutney in front of friends and relatives, their taste buds are in for a treat – and I'm happy to confess that I've had a big hand in introducing the stunning Kilner Jars, jam, preserv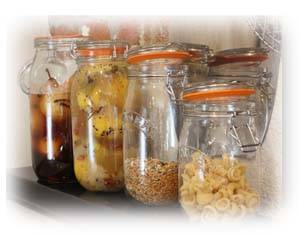 es and chutney making kit and – my personal favourite – the Rigamonti Passa Pomodori Passata Machine to our range – and an even bigger hand in 'testing' them out!

In the same way the apple presses deal with gluts of fruit and windfalls, the passata tomato press will turn excess fruit into a delicious, smooth, rich tomato sauce, removing the skin and seed in the process.

Making my renowned sauces is all well and good, but they'll be 'legendary' for entirely the wrong reasons if I don't store them properly. That's why I'm such a big fan of the best jars money can buy – the Kilner Jars! These handsome jars are certainly tried and tested – they've been around for over 150 years – and the screw-top lids of the preserve jars feature a rubber seal to keep my chutney, pickles and preserves as fresh as the day I bottled them. The clip top jars are the real deal and you can keep yourself in chutney throughout the winter months with the 3 litre version and storing rice, pasta (back on that sauce again!) and lentils couldn't be easier.

Yes, the weather is starting to close in and my gardening time is slowly being curtailed but when I've got my kitchen activities to fall back on, it somewhat softens the blow!