Hoop Brackets for Wooden Raised Beds (Set of 4)
£5.95 P&P
The Hoop Brackets and screws for our Wooden Raised Beds have been designed to securely hold our our High Top Hoops in place in the beds so that netting can be put over the hoops to protect your plants from pests and adverse weather.
Read More
The Hoop Brackets and screws for our Wooden Raised Beds have been designed to securely hold our our High Top Hoops in place in the beds so that netting can be put over the hoops to protect your plants from pests and adverse weather.
The brackets can be easily screwed into the wooden raised beds, then simply slide the hoop over the bracket to fix in place. Each bracket is galvanised for long life and are available as a set of 4 brackets (2 required per hoop)
Hoop brackets designed to support our high top hoops in wooden raised beds
Supplied in a Set of 4 brackets complete with screws
Simply screw to the inside of the wooden raised bed
Ideal to support all types of Garden & Plant Netting
Hoop support tube measures 155mm High
Fixing plate measures 50mm High x 60mm Wide
When fixed to raised bed, bracket support tube is 59mm from the inside of the bed
Internal measurement of the tube upright is 12.5mm
Full Detailed Dimensions Diagram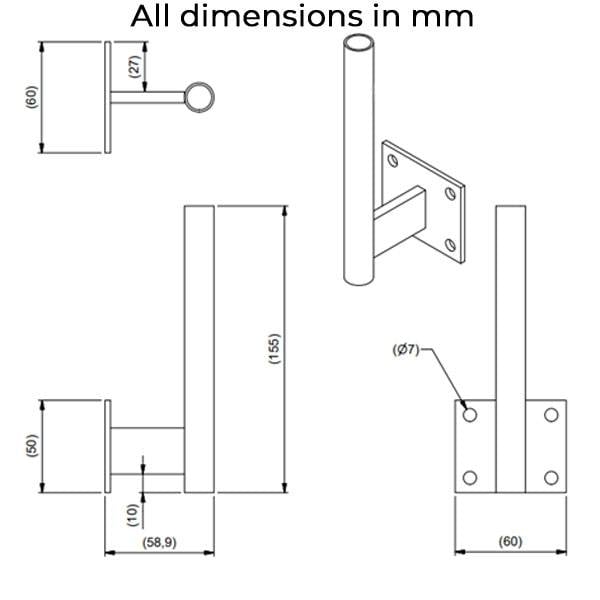 2nd May 2022
I bought these a long time ago to test. Bought many more recently because they were good. Only 4 stars this time as there are some with flashing, or large raised bumps which prevent the hoops from going down the shaft. Will have to try and file it down. Otherwise our new and exposed windy site (shallow soil, so now have raised beds) has now met its match and the hoops do not get blown down onto the crops. I now have to get more hoops too! Hoops prevent naughty pheasants from bathing in the middle of the crops!