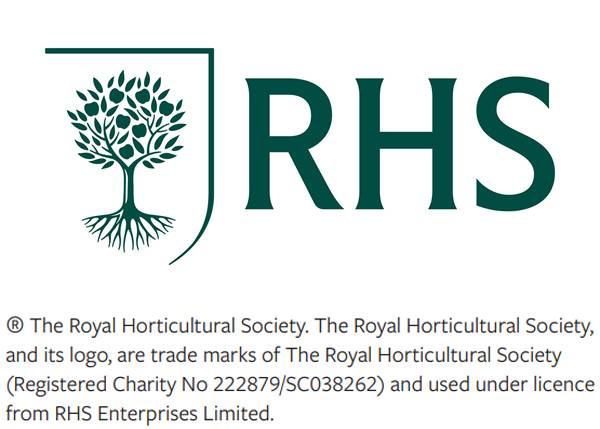 The Harrod Wisteria Umbrella Support Frame is an eye-catching plant support and will create a stunning display of all manner of flowering climbing plants, a beautiful addition to any garden.
Plants trained onto and cascading through this elegant, yet immensely strong steel wisteria umbrella become elevated to a star attraction.
Endorsed by the RHS, the umbrella support can be used as a patio centre piece, offering focus and delicate shade or use to accent entrance ways or flowerbeds with blossoming flowers that provide luxuriant splendour, bringing both new and established gardens to life.
The upright support is manufactured from durable, 2mm thick wall steel tube, 50mm diameter
Wisteria umbrella is made from hand welded 10mm diameter solid steel rod
Choose from 2 distinctive finishes – classic matt black powder coating; or natural rust that is supplied as degreased uncoated steel which quickly develops an even rust patina that improves with age
Please note the Rust version can take a few weeks to develop a rust finish which can be sped up if you apply a saltwater wash to the support.
Both finishes carry the reassurance of a 10 YEAR STRUCTURAL GUARANTEE (excludes surface corrosion)
1.5m diameter umbrella x 2.3m H above ground (50cm inserted in ground)
We advise concreting the support into the ground for added stability
21st March 2022
So pleased with my wisteria umbrella a couple of months ago to replace a rotten Holly tree trunk supporting our beautiful scented yellow Malvern Hills rose. So far it has withstood three serious storms and looks SO much better than the old fence post trying to support it!! So pleased in fact, I've ordered another to support an old and very vigorous honey suckle to save it clambering over a fence and up my neighbours hawthorn tree. First speedy delivery arrived extremely well packaged / protected. Installing was a doddle using a fence post level strapped to the post. Not cheap (especially the matt black option) but looks GREAT! Thank you.
Many thanks for sharing your product photo, it will look even more amazing when the rose is in full bloom.
27th April 2020
Excellent service the wisteria umbrella came quicker than we expected and looks as good in the garden as it does in the brochure
12th January 2018
I ordered a wisteria umbrella which was delivered on schedule. The umbrella was fully matched to the description in the brochure and indeed my expectations. Fitting was a doddle and the job will be complete once the Wisteria is planted. By the way, I cemented the umbrella into the hole on my own and it was easy.