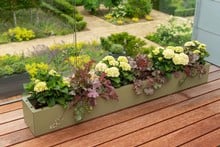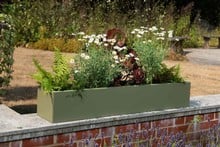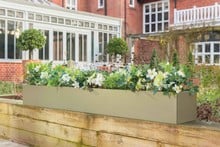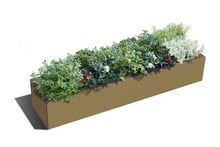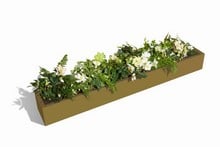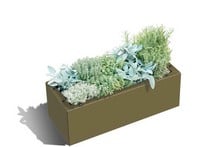 Harrod Trough Metal Planters - Heritage Green
£14.95 P&P
Our Trough Metal Planters in Heritage Green are contemporary, smart and beautifully engineered and a great choice to show off your favourite flowers and feature plants and give your outdoor space an instant update.
Read More
Exclusive Designed &
Made by us in the UK
Long Guarantees
Our Trough Metal Planters in Heritage Green are contemporary, smart and beautifully engineered and a great choice to show off your favourite flowers and feature plants and give your outdoor space an instant update.
UK engineered and manufactured using 1mm thick galvanised steel with super strength 'double folded' panel construction that bolts together
10 YEAR STRUCTURAL GUARANTEE
Built to last and low maintenance, just jet wash to maintain a pristine appearance
One-piece side panels with 3cm lip on top and bottom
Galvanised steel is painted inside and out using our 7 stage, state of the art, high temperature powder coating process for a weather proof finish in stylish Heritage Green
Please Note: Bases are not supplied as standard with the planters, but are available separately.
Optional Bases include drainage holes that can be plugged if required with supplied bungs.
The planter bases can either sit level with the ground or reverse the base so it is inverted to create a shadow gap
Available in 2 sizes - 1.2m Long and 1.8m Long
Self assembly required
These heritage green trough planters are also available in anthracite grey trough planters and corten effect trough planters
How Much Soil Will I Need?
Calculating the quantity of soil you will require to fill your planter is relatively simple; you just need to multiply the length of your planter by the width and the height in metres, multiply by 1000 and the figure you arrive at is the amount of compost you'll need in litres e.g.
1.8m long x 0.25m wide x 0.2m high = (1.8 x 0.25 x 0.2) x 1000 = 90 litres
There is a calculator on the Rolawn Soil page to make things easier. The soil is available in bulk 730 litre tote bags so ideal if you are looking to fill a number of planters. For more details on filling your metal planter please contact our Customer Services Team.
Be the first to write a review for this product.