Create your own Pleach Tree Frame with our black aluminium tubing, slot and lock connectors and use our releasable cable ties to secure in place.
The panels are constructed from standard Harrod Slot & Lock 16mm aluminium tubing, powder coated black and joined with our connectors, these can be bought individually as required and cut to length easily and quickly with a pipe cutter or hacksaw.
The Pleach Frame is designed to be fixed into the tree to form either a single panel, or linked together to form a screen. Additional bars can be used to run in depth, adding extra dimension to form cubes and rectangles.
To create the framework decide on the length and height of each panel required and choose the aluminium tubing to fit. Select the connectors required to create the framework.
Aluminium Tubing available in various lengths
Tubing is powder coated black
Slot & Lock connectors allow tubing to be easily fixed in place
Releasable cable ties allow the framework to be secured in the tree
Suitable for pleached trees such as Hornbeam, Lime, Ash and Beech
Create a flat panel frame, create a screen or even cubes and rectangles
Select lengths of tubing required and all necessary connectors
Tubing can be easily cut with a hacksaw or pipe cutter
Some example panels:-
Panel 1 - this is a smaller panel with 3 way connectors in the corners, 4 way connectors as the mid-way connectors on the sides of the frame and 5 way connectors in the middle of the framework. This also allows for other frames to be connected to create a square or rectangular frame.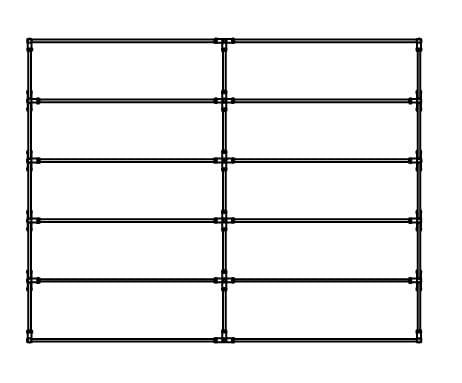 Panel 2 - if you are looking to create a larger frame maybe for a run of hornbeams larger frames can be made as the example below. Again this could then be extended to create a square or rectangle frame.
Be the first to write a review for this product.