You might recall the visit of Splash Broadcast to Stephanie's Kitchen Garden last August and the footage of the garden and Harrod Horticultural products they shot back then has been helping our customers understand and assemble the more technical items we supply ever since, thanks to the video clips located on the product pages of our main site.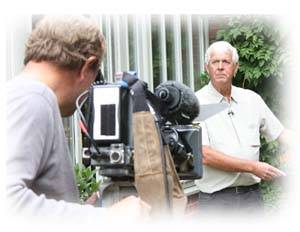 So successful have the set of original clips proved that I was more than happy to welcome back ex-GMTV cameraman Mark Hampshire and the Splash team back to the garden to film a 'sequel' to the original and the results of their cinematic handiwork will be available online very shortly; and if you're thinking about purchasing greenhouse staging, any one of our A-Frame or Ladder Vegetable planters or could even do with the lowdown on the attributes of the various types of netting we supply for example, then you're in luck!

The clips were presented by Radio 2 gardening guru Terry Walton this year, and I'm sure his dulcet Welsh tones – coupled with the fact he signed up for his first allotment at the age of 10 – should get across just how easy some of these products are to assemble, with a few growing tips thrown in for good measure too.

I'm already looking forward to filming the trilogy next summer!