The second Harrod Horticultural Press Day was a resounding success with a mix of garden writers, magazine editors and journalists enjoying the spectacular surroundings of the recently refurbished Folly and Kitchen Garden.

The event - held on Wednesday July 13th - gave the invited members of the gardening media a sneak preview into the plans and products the Lowestoft-based mail order gardening equipmentsuppliers have in hand for their 2012 in-house designed and manufactured range.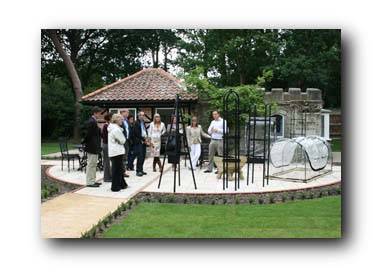 Comments from esteemed Telegraph garden writer Helen Yemm, Geoff Hodge of Garden News, Country Living gardening editor Stephanie Donaldson, Operations Director of Kitchen Garden magazine Dan Savage and Grow Your Own duo Sara Cork and Teresa Tudge were taken on board by New Product Manger Alex Rocke as the group viewed obelisks, protection covers, a tomato house and many other innovative new products.

The media were also treated to a summer lunch made almost entirely from the produce grown in the Kitchen Garden, talks from pest control expert Julian Ives and former Royal Horticultural Society Chelsea Flower Show Manager turned award-winning garden designer Anita Foy and a guided tour around the Kitchen Garden by new gardener Lynn - not to mention being one of the first groups to enjoy the luxury afforded by the rebuilt Folly.

Journalists and garden writers will be pleased to hear that a possible second Press Day is in the pipeline for September and any interested parties should contact Harrod Horticultural's New Product Marketing Assistant and press contact Victoria Myhill for details.