All eyes are focused on the Harrod Horticultural Kitchen Garden this coming Tuesday (July 12th) as the sixth meeting involving customers - dubbed the Focus Group - takes place.

The Lowestoft-based company have once again selected their very own Kitchen Garden as the venue for this year's version of the hugely succesful meeting, where around twelve to sixteen customers are invited to Harrod's stunning Kitchen Garden venue in Norfolk to view, appraise and cast a critical eye over potential new products and designs along with offering their opinions on existing products.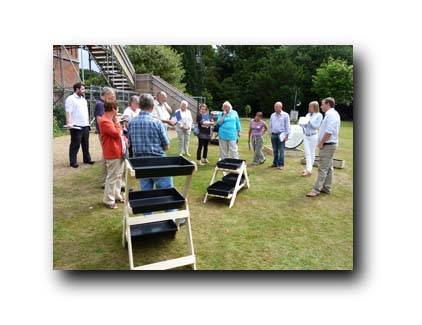 In attendance to field questions from the guests will be Harrod Horticultural MD Stephanie Harrod, New Product Designer Alex Rocke and key Research and Design Team members Lee Desborough and Rob Gooch, and they'll also be putting some brand new ideas on the line.

Following recent Focus Group events in the sumptuous surroundings of North Norfolk's Holt Hall, the Kitchen Garden has a lot to live up to but with the session being rounded off nicely with an informative trip around the Kitchen Garden - where the customers can see products from the Harrod Horticultural range in use and share their growing and gardening experiences with new Kitchen Gardener Lynn - the leading mail order garden equipment and manufacturer are confident the event will be a rewarding experience for all parties.