Imagine growing a tomato variety in your own back garden, packed full of antioxidants helping to prevent cancer and coloured a glorious shade of purple. Sounds to good to be true...? Horticulturist Martin Fiddes checks out the claims.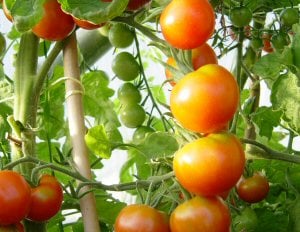 That's probably because it is! According to a recent report on Anglia News, boffins at the John Innes Research Centre in the Norwich have developed a strain of tomato rich in the antioxidant pigment anthocyanin, which tests have shown helps to slow the growth of cancer cells in the colon. In fact, anthocyanin is an all-round good guy as the pigment is also thought to inhibit cardiovascular disease as well.

But here's the problem; the scientists at the Research Centre have added the colour pigment by introducing genes from the flower of the snapdragon, which is naturally abundant in anthocyanins - and this technology most definitely falls into the category of genetic modification, meaning under current legislation the purple tomatoes will almost definitely fail to make it onto supermarket shelves.

Although lab tests on mice have revealved that the creatures are likely to live up to 30% longer than untreated colleagues, the Green Party - vehemently opposed to GM crops - have pointed out that existing fruits and vegetables contain the beneficial pigments (such as beetroot and both black and cranberries) and if eaten as part of the '5-a-day' recommendation, are likely to have similar effects.

However, it's still an interesting development and we can only guess as to when - or if - these manipulated vegetables actually make it onto the market, and with tomatoes proving an extremely popular grow your own crop, it's a sound business move by the scientists!