RHS Harlow Carr are hosting the latest in a series of their popular Grow Your Own Veg Events on Friday August 31st, this time with the topical theme of harvesting to the fore.

The 27.5 hectare garden on the outskirts of Harrogate in North Yorkshire is again the venue for the Kitchen Garden Harvest Event, a full programme of informative talks, demonstrations, exhibits and themed family activities, all designed to generate interest in growing your own vegetables. Previous events this year have proved very popular and large crowds are expected at the Crag Lane gardens once again.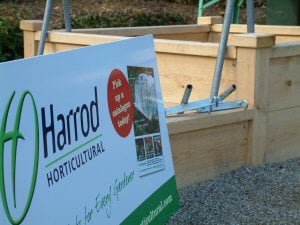 Senior Supervisor for Garden and Technical Services, Lizzie Balmforth, explained what visitors could expect to see. "You will be able to walk through the beautiful kitchen garden, view the 3x3 plot which was exhibited at Leyburn and Tatton, and see what products leading garden companies, including Harrod Horticultural, will be displaying."

The programme of events kicks off at 10am and run right through till 4pm, giving visitors ample opportunity to take in the the various talks and demonstrations planned. There's even an opportunity for young gardeners to participate in activities such as seed planting, crafts, storytelling and colouring, whilst experienced growers will no doubt find the expert information, with the emphasis on harvesting, invaluable.

Harrod Horticultural will be displaying their superior raised beds and unique caravan hoops, giving vistors to Harlow Carr the chance to get a tactile viewing of these popular products.

For full details of the Kitchen Garden Harvest Event, visit the RHS website, e-mail Harlow Carr directly or telephone the gardens on 01423 565418.