You may wish to customise your Harrod Greenhouse with some handy optional accessories such as greenhouse staging, shelving benches, work trays and reservoirs, available to add to your order at the time of purchase or to add to your greenhouse at a later date
Greenhouse Staging
In tests we compared the strength of our 4ft staging to that of a leading DIY superstore. Our competitor's models of staging bowed with the weight of 1 x 200 litre bale of compressed peat whereas our model happily held 6 x 200 litre bales of compressed peat without showing signs of strain.
What's the secret to our staging strength? The Harrod Superior Greenhouse staging uses a separate framework rather than relying on aluminium trays to provide structure and support. We use 3mm thick "T" Bar aluminium for the framework (twice the size of other models and by nature, stronger in its shape than L shaped sections). Our trays then sit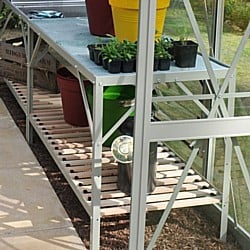 within the staging framework and can be removed altogether to grow tomatoes or cucumbers through the framework, using the framework as support. The Harrod Superior Greenhouse staging can also be retro fitted to greenhouses that haven't been purchased from us as they are made to fit most common sized greenhouses in the market.
Both the freestanding and integral staging and the slated shelving is beautifully colour matched to our Harrod Superior Greenhouses – available in Pine Green, Willow Grey or Antique Ivory they make striking additions and their functionality and strength is second to none.
Freestanding Staging
Our 2 tier freestanding greenhouse staging features removable top trays made from stainless steel which have been folded over for extra rigidity and to prevent sharp edges. The trays can be filled with capillary matting or pea shingle which is excellent for drainage and provides a moist mini climate around your plants. The trays can be flipped to provide a flat surface to work from and have open corners so excess water can drain away. The bottom tier is slatted with double vacuum, Protim preservative treated wood for long life providing drainage for pots and trays. The staging measures 60cm/ 24" deep x 80cm/32" high and is available in 3 lengths- 1.2m/4ft, 1.8m/6ft and 2.4m/8ft.
Integral Staging
Providing a tidy and well-organized growing space in greenhouses, our integral super strong staging framework is even fitted with feet to prevent it descending into the soil or gravel. We have positioned the support legs so they lean backwards, giving easy access to the floor for wheelchair users and extra space for gardeners wanting to sit at a height adjustable bench to sow, plant up or pot on. This is possible due to the strength of the tubular section used for the staging framework which doesn't rely on the greenhouse frame for its support. The support legs can also be fixed to the sides of the greenhouse for extra support.
I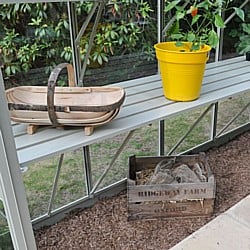 ntegral staging is available at eye level height (1 ft/30cm depth) or low level height (2 ft/60cm depth). The shelves are two different depths so they readily sit above each other whilst the smaller shelf is still deep enough to hold a seed tray. The staging can also be arranged at the back of the greenhouse in an L shape or U shape. The slats on the staging are 10cm apart which allows for drainage. Supplied in foot lengths, simply order the amount to achieve the length required. (e.g. for a 6ft length change the order quantity to 6 when ordering)
Slatted Shelving Benches
Fitted slatted shelves can enhance your greenhouse growing space even further, freeing up space on your staging by providing a home for your sundries. The 10" slatted shelves can also hold pots and seed trays, available in two lengths- 4ft and 6ft. The shelves can sit next to each other end to end to maximise space. A 6ft shelf is perfect for an 8ft greenhouse or use two smaller 4ft shelves end to end in a 10ft greenhouse.
Harrod Staging Work Tray
Pre –assembled, our Harrod staging work tray is made from thick aluminium with welded corners. Simply remove a tray from the free standing staging and drop in to fit whilst in use then replace the tray when finished and store the work tray under the staging when not in use. The work tray measures 59cm W x 59cm W L x 25cm H.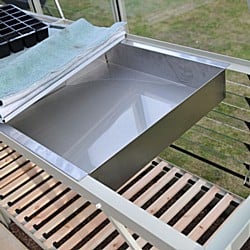 Harrod Staging Water Reservoir
The water reservoir holds 30 litres and positions neatly beneath the Harrod Freestanding Staging trays. Plants then sit on capillary matting (available from www.harrodhorticultural.com ) which drops into the reservoir so plants can draw up the exact amount of water they need to grow. The water reservoir measures 24"/60cm x 24/60cm" and is designed to fit Harrod Freestanding Staging Units in 4ft, 6ft and 8ft Only
Additional Accesories for Greenhouses
Additional growing sundries for greenhouses such as heaters, capillary matting, propagators, grow lights, thermometers, potting equipment, plant labels, watering products, fertilisers, shade netting and bubble wrap can all be found at www.harrodhorticultural.com