The popularity of growing your own vegetables is soaring, with waiting lists as long as your arm for allotments and community groups establishing new vegetable plots asnd gardens all over the country.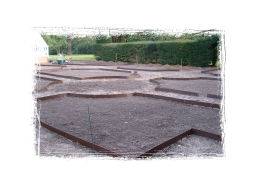 It's a positive to come from the global economic downturn, as more and more people look at ways to trim their family budgets and gain a new hobby at the same time, and particularly heartening is the story of a group of residents in East London who, with the help of their housing trust Circle 33, have created a new Kitchen Garden.

Astonishingly, the garden was built by 40 residents and the project partners in just a single day and the fact that one of these organisations - Organic Lea, a Lea Valley food growing cooperative - is based in the Lea Valley is quite ironic.

Why? Well, the area around Broxbourne and Cheshunt in Hertfordshire, known as the Lea Valley, used to be 'London's kitchen' where fruit and vegetables were grown under glass and sold at the famous London markets, including Convent Garden. This was no small concern as the area covered by this industry measured 10 miles long by 8 miles wide and during its heyday in the 1920's was the biggest area under glass in the world - making the Guinness Book of Records!

It's good to see a link with this now mainly forgotten industry has been maintained and hopefully the residents of Priory Court Community Centre, just a few miles south of the Lea Valley, will continue to enjoy fresh fruit and vegetables for years to come.