Stephanie's Kitchen Garden has been the subject of various articles and features in the gardening press over recent years and inviting a single gardening journalist to the garden takes plenty of planning, preparation and general tidying up – so imagine the effort involved when eight representatives of the country's leading gardening publications and highbrow daily newspapers are due to drop in! Martin Fiddes reports...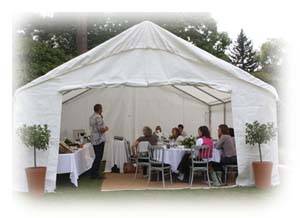 Preparations for the 2010 Harrod Horticultural Press Day included a frenetic outbreak of trimming, pruning, sowing and generally tidying up, the erection of a large marquee (you just can't trust the late summer British weather!) and the harvesting of seasonal kitchen garden produce, more of which later. Invites also went out to guest speakers Tom Hoblyn - multi-RHS Chelsea Flower Show gold medal winner the designer of Stephanie's Kitchen Garden - and Harrod Horticultural's own pest control expert Julian Ives.

All the visiting journalists – the majority of them editors of their respective publications – thoroughly enjoyed lunch on the lawn, expertly prepared by Whelan Bespoke Catering and consisting almost exclusively of freshly harvested and organically grown fruit and vegetables from Stephanie's Kitchen Garden.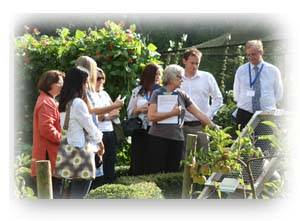 A guided tour of the kitchen garden and a sneak preview at some of the brand new gardening products we're hoping to test and introduce to our 2011 range followed, and no doubt you'll read their opinions on the innovative gardening items we've been working on!

We'd be incredibly foolhardy if we didn't take their feedback into account – so early next year, you may be looking at a product which has been designed with input from Helen Yemm (Daily Telegraph), Tamsin Westhorpe, Jackie Bennett (both English Garden), Lucy Halsall, Teresa Tudge (both Grow Your Own), Liz Dobbs, Sui Lee (both More From Your Garden) and Ian Hodgson (RHS The Garden).

With the event proving a resounding success, expect the Harrod Horticultural Press Day to feature on the gardening calendar next year!