Here's a question for you - what have a chart-topping 1990's pop combo from Scotland and the previous month got in common? The answer? Wet, Wet, Wet!

With many of our gardens suffering from some degree of flooding or waterlogging in the spate of storms and torrential rain which have lashed the country, it's been a testing time for gardeners in general. But is there a silver lining appearing around the storm clouds? Well no, not yet!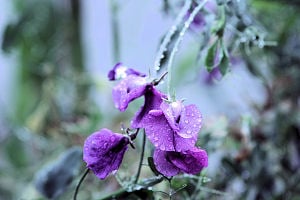 According to weather forcasters at the BBC, the next few weeks are likely to see a continuation of the heavy showers, with the weather turning warmer as July progresses.

The Met Office, one of the world's leading authorities on weather and environmental issues, have published their provisional statistics for June 2007 - and they make grim reading. Data collected by the Exeter-based organisation shows that June 2007 was the wettest since accurate records began in 1914, with the UK average rainfall figure of 134.5mm comprehensively beating the previous wettest June total of 121.2mm, back in 1980.

Possibly the most staggering figure was the 103.1mm of rain which fell over Fylingdales in North Yorkshire in a 24 hour period, which makes the severe flooding across Yorkshire in general more understandable. According to Met Office Chief Scientist John Mitchell, we can expect more unpredictable weather during the summer months. "In the UK, extreme rainfall is likely to increase in winter, but in summer the predictions are unclear. Improved modelling and understanding in the future will help us to reduce this uncertainty for the UK," he said.

The extremely heavy rainfall can prove fatal to garden plants as roots become starved of vital oxygen due to the waterlogged state of the soil, and the size and intensity of the rain - and hail - can damage leaves and stems, creating an access point for diseases. A short term solution is to aerate the soil with a fork or similar implement, taking care not to tread on the wet soil more than necessary. Longer term, digging in plenty of organic matter will certainly help soils to drain more quickly as will incorporating sand or grit, both jobs which are best done during the winter months. Temporarily covering plants with cloches or fine netting will help reduce heavy rain injuries but is not always practical, given the speed at which the showers tend to arrive.

It's also important not to make a knee-jerk reaction to the recent weather and start installing land drains and soakaways - at least not in the garden/allotment situation. After all, we've only experienced one real June soaking in 93 years so a good dig over during the winter should work wonders if we get a repeat next year!