GARDEN SPRING CLEAN
...a guest blog by Alexandra Campbell, Author & Blogger - The Middle Sized Garden


HOW TO BOOST YOUR 2020 GARDEN WITH A NEW YEAR SPRING CLEAN
'Spring cleaning' has a 1950s housewife image. Not many people open up their houses and clean them from top to bottom in March any more. But a garden 'spring clean' will make a big difference to your gardening later on in the year.

It is a good time now to start a garden spring clean, when you don't have to do much weeding or planting. And if you do it a bit at a time everything will be in great shape, and you can start the fun bits of gardening – like potting up containers and planting seeds and seedlings.

1) Clean and sharpen tools. You can send some brands of secateurs, such as Felco, away for repair. Chuck any tools that are bent or rusted. You can always buy another hand fork. You do not need a pile of broken 'emergency' tools in the recesses of the tool shed.

2) Wash all your plastic pots and seed trays in bleach. I fill a big gardening trug with cold water, squirt in some bleach and throw all the pots in. I let them soak for a couple of hours, tip them out, rinse them with the hose and leave to dry. Viruses etc can over-winter on your pots, so you're more likely to have healthy plants if you wash them between plantings. Don't do this with terracotta pots, though, because they'll absorb the bleach and leach it out onto your plants.

3) Go round the shed, garage and garden with a dustbin bag and throw away everything you're not going to use. Be tough with yourself. Are you really going to re-use that label for the third time? And, no, that scrap of netting won't come in useful someday.
4) Hand-weed the terrace or path. This is a miserable job, so I set a timer to '15 minutes' and do just 15 minutes a day over two or three weekends. It's amazing how much you can achieve in 15 concentrated minutes. If you hand-weed the terrace once at the beginning of the year, it's much easier to stay on top of pulling the odd weeds up when they appear. And weed-killers won't really start working until the plants are in full growth later on in spring.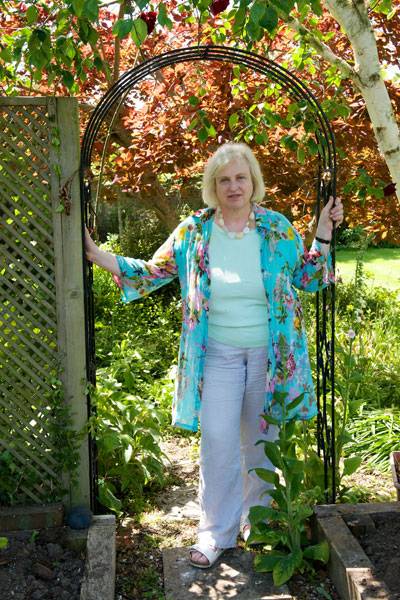 5) Sweep and/or pressure wash terraces and patios. Once a year is enough. Clean does look better.

6) Start anti-snail and slug work in February. Even if you're an organic gardener, you can use ferric phosphate pellets. Scatter handfuls of pellets fairly widely over borders. Don't make neat piles – throw the pellets across the borders with panache. Starting now will really help you when it comes to May and June – you'll have much less slug damage.
7) Wash all the bird feeders and bird table in disinfectant. This should really be done every few months, but it's the sort of thing I forget. If you can do it once a year, at least it does get done!

8) And finally, clean, tidy and empty any container plants and re-fill them ready for planting up once the sun comes out.

Alexandra Campbell is an author and blogger, who runs the blog, The Middlesized Garden. It's about how to save time, effort or money if your garden is larger than a courtyard but smaller than an acre.
Photo courtesy of Lisa Valder - http://www.lisavalderphotography.co.uk/