One of the challenges of kitchen garden, allotment and vegetable plot growing is to overcome the army of garden pests with designs on your crops.

Most gardeners with even a little experience can spot the usual suspects on your plants, but identifying those you've not seen before can prove rather tricky, as can deciding upon the best course of action. Here at Harrod Horticultural we've tried to make the whole question of garden pest control much easier – that's why we've taken Julian Ives, a renowned pest trouble-shooter, on board to head up our new 'Natural Choice' range of organic pest control products and help make the whole question of garden pest control that much easier to answer.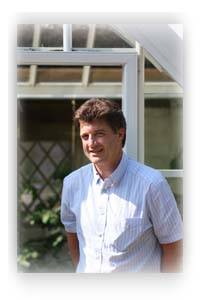 Julian's certainly got the pedigree to be 'labelled' an expert; his horticultural career began at RHS Harlow Carr, before going on to Writtle Agricultural College to study commercial horticulture. On leaving college, Julian worked for a horticultural sundries supplier before joining Europe's largest producer of beneficial insects for biological pest control. For over a decade he advised many different types of growers from tomato and strawberry to pot plant growers on how to best apply and use biological control whilst also reducing insecticide use. He knows what he's talking about!

He's also "delighted" to be part of our set-up and can't wait to get stuck into those pest queries. "When Harrod Horticultural asked me to join their team to offer my advice on the new 'Natural Choice' pest control range, I was delighted to be able to use the years of experience I have gained from studying pests and advising different types of growers," says Julian. "Armed with beneficial insect habitats, nematodes, traps, barriers and natural sprays, it's easier than you think to kill or deter garden critters without harming the environment. Not only is this range safe to wildlife, children and pets but it's highly effective which takes away the typical gardeners' struggles and frustrations."

So how can you get in touch with Julian? We've made that easy too – just click on the image below, send him your pest-based questions and queries and enjoy a stress-free, pest-free year in the garden!