Our new Garden Arch range - designed in-house and manufactured in our Suffolk factory - has made the pages of the August edition of glossy East Anglian-based lifestyle magazine Places & Faces.

The arch range - consisting of the Gothic, Ogee and Roman designs - occupies pages 73 to 77 in the magazine and are the focus of a feature on garden arches and architecture plus suitable climbing plants by Darren Mellor of Norwich-based Superior Garden Buildings.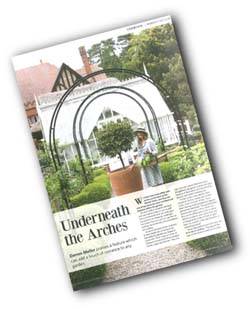 The arches sit well in the high-brow magazine and the images taken by our own Harrod Horticultural photographer and horticulturist Martin Fiddes fit seamlessly into the mix of articles which include interviews with Myleene Klass, Verity Rushworth (Maria in the Sound of Music at Norwich Theatre Royal) and Framlingham born singer-songwriter Ed Sheeran.

Places & Faces is published by H2 Creative Media and is delivered complimentary door to door to selected homes between Norwich, the Norfolk Broads and down to Southwold. The magazine is also available as a free pick-up in selected outlets but more importantly a subscription service is poised to come on stream very shortly - we'll provide you with details here!

In the meantime, just click on the image (left) to take a virtual flick through the garden arch feature and the whole magazine - the wonders of modern technology!