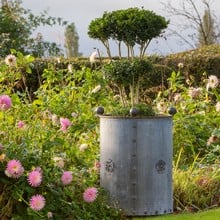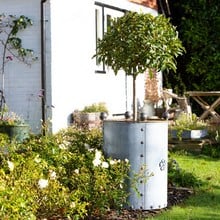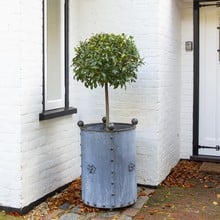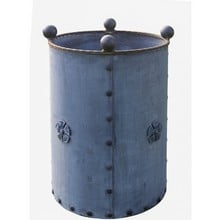 These Large Steel Round Planters are made of heavy gauge galvanised steel and decorated in a traditional Georgian style complete with Tudor roses and decorative balls.
Made in England by artisan metal craftsmen, hot dip galvanised for long life and hand finished with a special treatment to give them an aged patina that can be variable and will alter over time and location. As such we cannot guarantee that the finish on all planters received will be identical.
All the ornamentation is galvanised separately, galvanised coach bolts hold the planters together and the decorative balls and roses are galvanised cast iron.
The bottom panels on the planters are drilled to allow free drainage and there are 6cm feet to keep the base clear. These containers are suited to many plants in the garden such as topiary box ball, roses, small shrubs, trees and flowers.
You should not confuse these metal planters with inferior products made of glass fibre or plastic, they are high quality British made steel items.
Note: For quantities of 3 or more and for prices for deliveries to Isle of Wight, Scottish Islands, Northern Ireland, Channel Islands and mainland Europe please enquire 0333 400 6400
Traditional Large Round Steel Planters
Made in 1.5mm Galvanised Steel
Hot dip galvanised for long life
Pre-drilled bottom panel to allow free drainage
Special 6cm feet keep planter clear of the ground
Finished with a special treatment to give them an aged patina
Measures 65cm high x 50cm dia. - Weighs 20kg approx
Please allow 15-20 working days for delivery
29th October 2023
The planter is beautifully designed and sits well at the front of our home. My only complaint is that I wish that when you purchased it a warning to wipe it down and apply a coating of WD40. It's taken a while to bring it back to how it looked when we first purchased it. Photo 1 Day of arrival. Photo 2 A few days later after some rain. Photo 3 After a clean and WD40 applied.