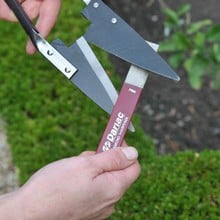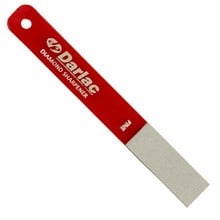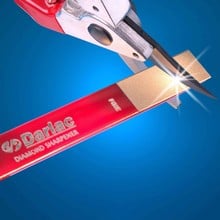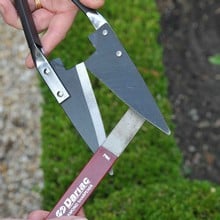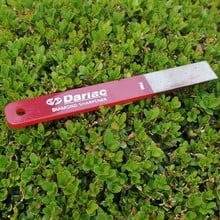 The fine Darlac diamond sharpener continues to sharpen blades, even when it 'smooths out' and using a diamond sharpener removes less steel when creating a sharp edge.
Full instructions are included with the tool sharpener which is bound to become a firm favourite in the garden tool shed, helping maintain your cutting and pruning tools in optimum condition.
Fine diamond sharpener
Ideal for sharpening secateurs, pruners, knives and small blades
Diamond sharpeners remove less steel
Still sharpens even when it 'smooths out'
Full instructions included
31st December 2021
handy to keep in your pocket for touching up blades as you work would certainly recommend
What The Press Say
---
Amateur Gardening
January 2014
Tried and Tested - Julia Heaton
Amateur Gardening 'Best Buy' - Features ***** Very Strong and flexible. Flat plastic handle 14.5cm long and 2cm wide. The final 5cm is set with a thin diamond particle sharpener. We tested the fine grade version but its also available in course for bigger tools. Performance***** Took a bit of practice across different tools, but once this was sorted it was beautiful to use. The long and wide surface of the sharpener allowed work to be done easily in a circular fashion and the handle moulded and bent to the hand. Brilliant for secateurs, smaller loppers and knives. Value***** Very straight forward tool that you can keep with you all the time. Reasonably priced too, so if ever misplaced can be easily replaced.
---
Gardening Which
November 2006
Sharpening garden tools - we test nine tool sharpeners and reveal the best
'Best Buy' This effective sharpener has a comfy plastic handle, and our assessors found it easy to use. The lack of diagrams in the instructions lets it down slightly, however VERDICT Made light work of sharpening our secateurs.
---