It's a long way from Lowestoft to Leyburn, but some of Harrod Horticultural's bio-degradable pots will be making their way up to the The Dales Festival of Food and Drink - a celebration of food, drink and farming in the glorious Wensleydale area of Yorkshire, reports horticulturist Martin Fiddes.

Organised by the charitable company, Leyburn and Mid-Wensleydale Patnership Ltd., the 3-day gastronomic extravanganza takes place from the 5th to the 7th of May and features around 80 mainly local food producers, a full programme of cookery demonstrations from leading Wensleydale chefs and regular displays of farming practices.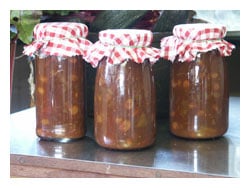 Of particular interest to gardeners will be the continuous production 3m x 3m vegetable garden, made famous by Carol Klein's BBC TV 'Grow Your Own Veg' series. The plot was filmed for the show at the RHS's Harlow Carr gardens in nearby Harrogate, and will be re-created at the festival. Two members of the ever-helpful Harlow Carr staff will be on hand to explain how the bed can provide so many vegetables, and children can plant a veg seed in a pot, take it home and watch it grow.

And that's where Harrod Horticultural come in! We've supplied the RHS with some bio-degradable coir pots - regularly used in our own Kitchen Garden - for the younger show visitors to plant their seeds in, and hopefully spark their interest in gardening, and home grown produce in particular.

Lizzie Balmforth, Senior Supervisor of Garden and Technical Services at Harlow Carr, is delighted that coir pots are being used. "It will hopefully educate the children in bio-degradable products as well as encouraging them to grow their own veg," she said, adding; "it's important to encourage children at an early age and to capture their imagination, so it becomes second nature to question where their food has come from and how simple it can be to grow your own vegetables."

If you'd like to visit the Dales Festival of Food, click here for further details including opening times, ticket information and directions to the event.