Contemporary Arch & Pergola Walkway
£19.95 P&P
The stunning Contemporary Arch & Pergola Walkway will add visual interest and define space in a contemporary garden, using high grade aluminium finished in stylish anthracite grey, this Garden Arch & Pergola will be a wonderful focal point in the garden.
Exclusive Designed &
Made by us in the UK
The Contemporary Arch & Pergola Walkway is an ideal destination to relax and enjoy the garden when covered in roses, wisteria and other scented ramblers, or create a shaded floral walkway to lead from one section of the garden to another.
The Arch framework is made from substantial 10cm/4" square aluminium uprights and cross bars with an impressive 3.2mm wall thickness - heavy, robust, yet light in appearance that combines extremely well with modern, traditional, urban or country homes.
To create a Pergola the arches are joined using 38mm square linking bars. All the framework is non-corrosive, powder coated in a stylish anthracite grey (RAL/7016) and is guaranteed for 15 years.
The Arches have steel "L" plate electro-plated corner joints which are secured with discreet bolts. The Arch is floor mounted with floor fixing plates, optional bolts are available to secure the upright floor plates.
The Contemporary Arch can be ordered as a stand alone garden arch, or if you are looking to create a contemporary pergola walkway, simple select the base unit and then select as many extensions kits as you need for the length of your walkway.
Thanks to Emotive Landscapes - http://www.emotivelandscapes.co.uk/ for supplying many of the images used above. Please note this is a bespoke pergola so was not one of our standard sizes.
Buying Options
(A) Single Contemporary Arch - ARC-483 - 2.4m Wide x 2.4m High - position alone to frame a vista or separate sections of the garden.
(B) Pergola Base Unit - ARC-484 - 2.4m Wide x 2.4m High x 2.5m Length – Includes 2 Arches and linking bars. Use alone for a special outdoor space ideal for dining or entertaining.
(C) Pergola Extension Kits – ARC-485 - 2.4m Wide x 2.5m High x 2.5m Length - includes 1 Arch and linking bars. Add these single upright extension kits to the Pergola Base unit to create a walkway of any desired length.
| | | | | |
| --- | --- | --- | --- | --- |
| | Width | Height (Above Ground) | Length | Code |
| Single Arch (A) | 2.4m/7ft 10" | 2.4m/7ft 10" | N/A | ARC-483 |
| Pergola Base Unit (B) | 2.4m/7ft 10" | 2.4m/7ft 10" | 2.5m/8ft 2" | ARC-484 |
| Pergola Extension Kit (C) | 2.4m/7ft 10" | 2.4m/7ft 10" | 2.5m/8ft 2" | ARC-485 |
Please note: Width & Height measurements are external - length is centre to centre of the uprights - see below:-


Fixings for the Arch & Pergola:-
Each Arch Upright has a footplate with 4 holes for floor mounting to decking, concrete or other suitable surface. Stainless Steel floor fixing bolts are available separately if required.
Add fixing pins separately:
Stainless Steel Through Bolts x 16 (For Pergola Base Unit) ARC-487
Stainless Steel Through Bolts x 8 (For Single Hoop & Pergola Extension Kits) ARC-486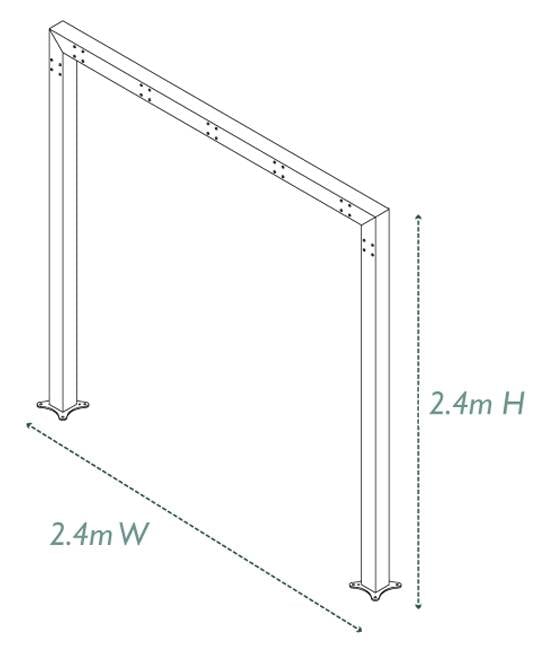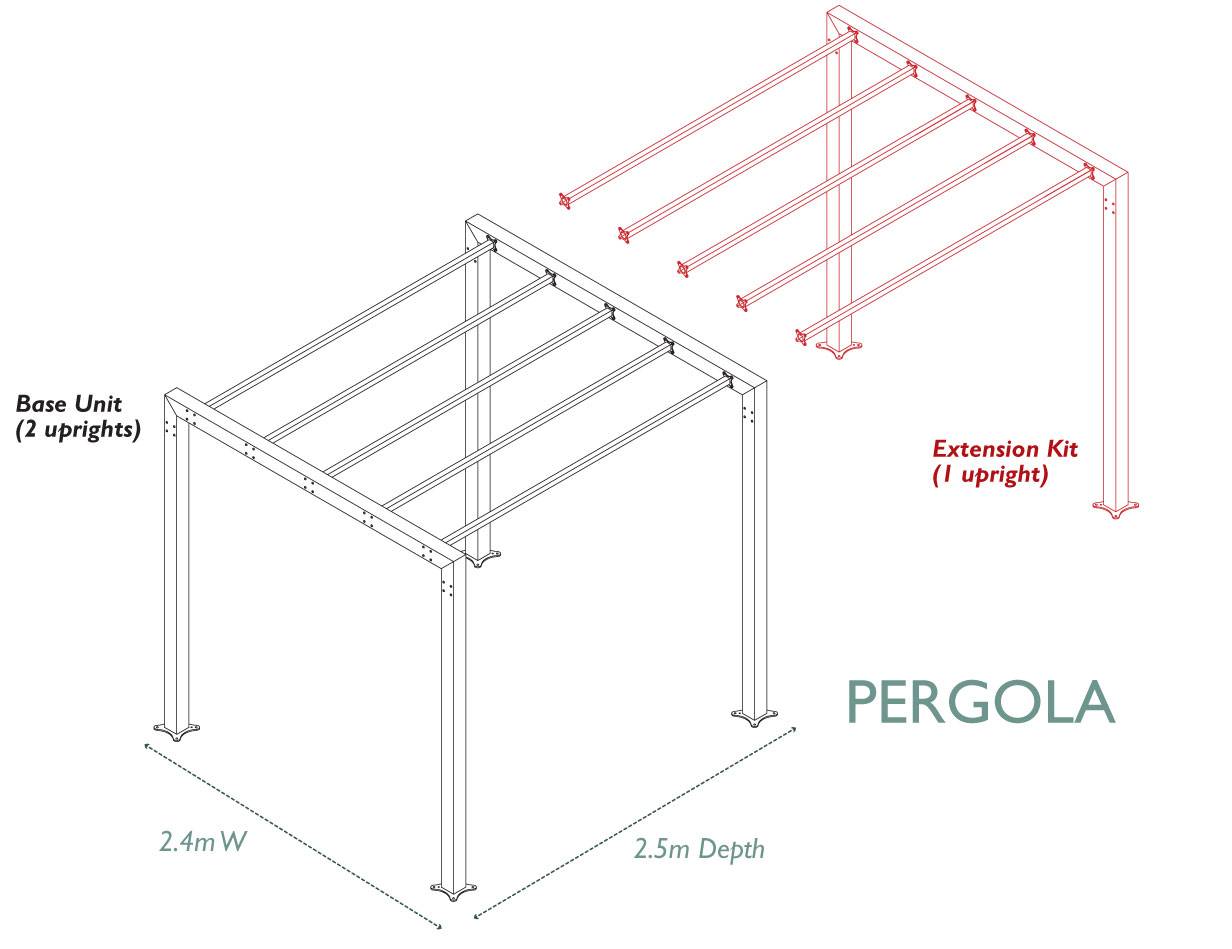 Specifications:-
Arches use substantial 10cm/4"square aluminium uprights and cross bars with an impressive 3.2mm wall thickness

Pergola aluminium linking bars are 38mm square and 1.63mm wall thickness

All framework is non-corrosive, powder coated anthracite grey and guaranteed for 15 years

Steel "L" plate electro-plated corner joints are secured with discreet bolts

Floor mounted with floor fixing plates; optional bolts available to secure the upright floor plates

Arches are 2.4m Wide x 2.4m High

Pergola Base Unit measure 2.4m W x 2.4m H x 2.5m Span - includes 2 arches and pergola linking bars

Pergola Extension Kits measure 2.4m W x 2.4m H x 2.5m Span - Includes 1 arch and pergola linking bars

Bespoke awnings are available upon request - contact us on madetomeasure@harrod.uk.com for a quote