The process of composting has been taking place ever since the earth was created, long before any of us were even thought of. Fast forward a few million years to today however, and your chance to learn all there is about compost as Norfolk County Council hold their latest course next month.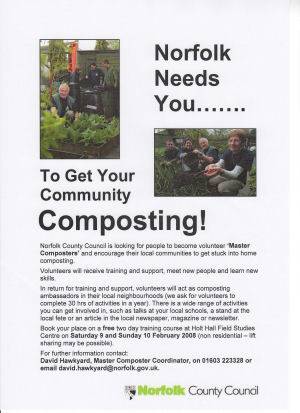 You may recall I completed a Norfolk County Council Master Composter course in June of last year, and ever since I've putting my well-honed composting knowledge to good use. I've found the composting confidence to offer face-to-face advice, write articles, improve my own home composting and recycling and even produce a newsletter

But is the Master Composter course for you? If you have even the slightest interest in gardening - Yes! If you have an allotment, or grow some of your own vegetables - Yes! If you care about the environment - Yes! If you'd like to improve the way you dispose of your own household waste - Yes! If you're naturally curious about how this fascinating process takes place - Yes! And you'll never meet a nicer bunch of people!

So the place to be over the weekend of February 9th and 10th is Holt Field Studies Centre in north Norfolk, where the latest Norfolk County Council Master Composter course is to be held. The two day non-residential course will equip you with the skills to advise members of your local community of the benefits of composting, and the post-course support of the council's recycling department gives you the confidence and equipment to take display stands to fetes, functions and open days - dates of suitable events are even announced in the regular newsletters you'll receive!

For further details, or to enrol on the FREE course, please contact Norfolk County Council's Master Composter Coordinator, David Hawkyard, on 01603 223328 or send an e-mail to david.hawkyard@norfolk.gov.uk. Places are limited and are going fast, so don't delay!